Baltic Workboats of Estonia has been awarded a 16 million Euro contract to design and build an advanced new multifunction patrol vessel to protect Estonia's maritime environment, which the company believes will also significantly enhance the company's future export potential.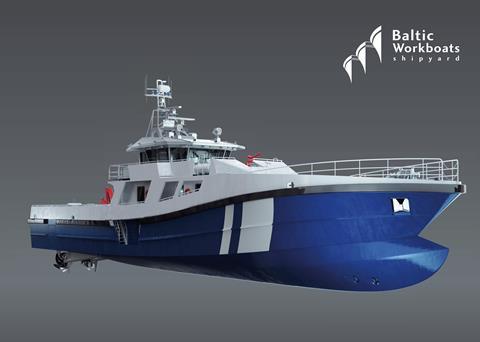 The vessel will be operated by Estonia's Police and Border Guard Board and designed primarily to combat pollution, as well as provide offshore patrol, search and rescue, firefighting and hydrographic tasks, including the capability to lift, transport and launch buoys.
Baltic Workboats has not commented on whether the vessel will have any subsidiary capabilities applicable to locating subsea threats, but it is well reported that Estonia is highly concerned about Russian submarines unofficially straying into its territorial waters.
The agreement was signed by Estonian Interior Minister Hanno Pevkur, Deputy Director of the Estonian Police and Border Guard Board Tauno Tuisk and Baltic Workboats CEO Margus Vanaselja. Interior Minister Hanno Pevkur, spoke of his delight that an Estonian company won the tender. He said: "I am glad that it was Estonian shipbuilder who won the tender. It obviously demonstrates the high standards of Estonian shipbuilding." Tauno Tuisk, Deputy Director of the Estonian Police and Border Guard Board, added that the new ship is an important investment for keeping Estonian waters clean and safe. He added: "In case of a pollution, it is critical to react and reach the polluted area as quickly as possible. With the new vessel the focus has been on speed and seaworthiness."
Margus Vanaselja, CEO of Baltic Workboats, explained that the new vessel has strong export potential and can open new market segments for the company. He said: "This modern, highly capable vessel will not only perform a vital role for Estonia, but also enable Baltic Workboats to expand its export potential and reach new customers around the world." The vessel will be between 42 and 45 metres in length, depending on the final design.
She will top the Baltic Workboats' already impressive range of high-speed wave-piercing allweather vessels. The ship will be equipped with cutting edge new technology, such as a 9.2 GHz radar that can detect marine pollution, even from afar in rough seas, as well as locate a person floating on the surface of the water from five nautical miles away. The vessel will also have side-scan sonar to monitor water quality below the surface and scan the seabed, which will enable it to observe pipelines and detect pollution from shipwrecks.
The vessel can respond fast in an emergency due to her twin MTU 16V4000 marine engines, which can propel it to 25 knots, while economic cruising speed is designed to be between 10 and 16 knots with a minimum range of 2500 nautical miles.
By Jake Frith