Tidal energy developer Orbital Marine Power has been made a Lead Partner in Ocean Energy Europe, a network of ocean energy professionals.
The Scottish firm has been developing its tidal energy technology in its O2 project supported by Horizon 2020, and EU-funded programme that spent a budget of nearly €80 billion between 2014 and 2020.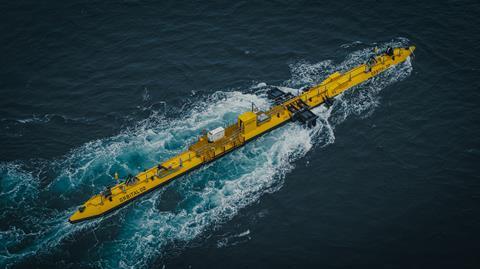 Orbital's 2MW O2 floating tidal turbine began exporting electricity to the UK grid in July 2021.
"Orbital is one of the pioneers of tidal energy," said Ocean Energy Europe (OEE) CEO Rémi Gruet. "They have played a major role in the sector's progress for many years now, and it is a natural step for them to take on a more prominent role at OEE as they prepare to commercialise their technology. I look forward to working with Andrew and his team to keep that forward momentum going, and to make a global tidal energy market a reality."
"We have seen tidal energy brought to commercial readiness and interest grow in the role it can play in secure, sustainable and low carbon energy systems of the future," said Orbital CEO Andrew Scott. "As we move into a new, exciting phase of scaling our industry, it will come with new challenges and opportunities - I have no doubt OEE will continue to play a key role in helping deliver success for the sector, and we look forward to supporting that critical effort."