Shares in Atlantis Resources Ltd (ARL), the tidal power expert, have increased following the news that the firm has been granted a €20.3m Horizon 2020 grant from the European Commission for the MeyGen project.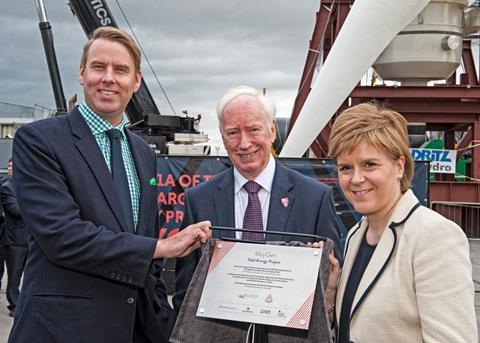 The DEMOTIDE project, which will design, build and operate a 6MW turbine array, MeyGen Phase 1B, in the Inner Sound of the Pentland Firth in northern Scotland, will commence construction in 2017 and first power is expected in 2018.
Tim Cornelius, Atlantis CEO, said: "The DEMOTIDE project is the next significant step in delivering cost effective, reliable tidal stream generation for Europe. MeyGen is the world's most high profile tidal stream project and we are delighted to be working with the European Commission and this world leading consortium of marine renewable energy experts to ensure that Europe remains at the forefront of tidal power knowledge creation. "
"This project will help the tidal stream industry demonstrate reductions in the price per unit of electricity by increasing the energy yield per pound of investment. DEMOTIDE will set tidal on a path to cost parity with offshore wind by 2020."
MeyGen Phase 1B will be built adjacent to the existing 6MW MeyGen Phase 1A project, which delivered first power to the grid in November last year. Together, Phases 1A and 1B complete the foundation for full scale build out at the site, which has an awarded seabed lease for almost 400MW of installed capacity.
The DEMOTIDE project aims to demonstrate the technical and commercial viability of drilled foundation systems and larger rotor diameter turbines, further de-risking the industry and providing a robust path to significant cost reduction in the European tidal power sector.
DEMOTIDE's consortium consists of Marine Current Turbines (an Atlantis company), Belgium's DEME Group, comprising DEME Blue Energy and GeoSea, French engineering expert INNOSEA andQueen's University in Belfast, Northern Ireland.
By Anne-Marie Causer