An EU-funded project is supporting the construction of a hydrogen fuel cell-powered push boat in a French city.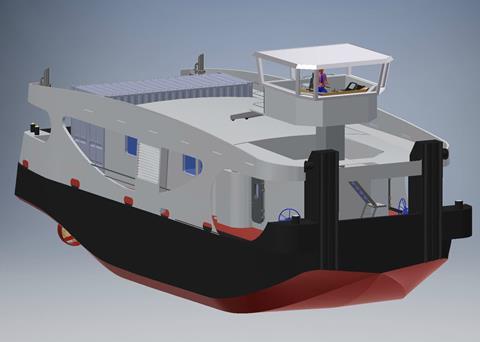 The €6.8m FLAGSHIPS project aims to realise the barge vessel, due to be based in Lyon and designed to get its clean hydrogen from the Rhone river's hydroelectric power.
Two 200kW fuel cells will be connected to a mobile compressed-hydrogen fuel tank. This fuel tank can be removed and refilled with green hydrogen, which will be created at an electrolysis plant using power from the Rhône hydroelectric dams.
Victor Laravoire is newbuilding project manager at transport group Sogestran, which owns Compagnie Fluviale De Transport (CFT), a member of the FLAGSHIPS project and future owner of the hydrogen push boat.
He said: "The great river's water flow will create the energy, which will create the hydrogen which then is used on a barge on the river. On the barge the water formed in the fuel cell reaction to create power is then returned to the river as the bi-product from the fuel cell."
The design for the vessel encompasses a mobile fuel tank with a 300kg compressed hydrogen capacity, enough to power the push boat for two weeks said Mr Laravoire. When it is empty it will be replaced by a second tank, and the first one taken by road to the refilling station located just beside the dock area to be refilled with compressed hydrogen.
Roles of the vessel will include shuttling empty and loaded barges from the loading cranes to the standby area.
CFT has tenders out for a yard to build the vessel, with delivery anticipated in mid 2021.
By Rebecca Jeffrey