The new EMODnet Geology shoreline-migration map allows policy makers or national and regional coastal managers to identify areas of rapid change.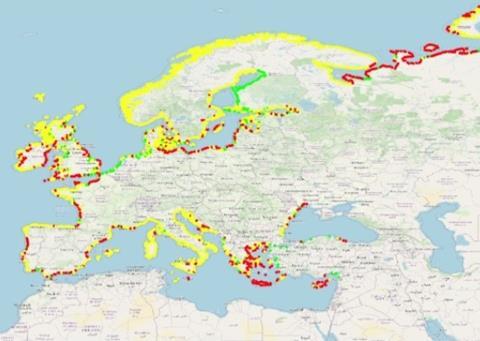 The map is freely accessible from the EMODnet Geology portal, is based on field measurements and aerial photography, and covers time periods up to decades. This technique is particularly valuable for mapping cliffs, which are prevalent along European coastlines, particularly since state-of-the-art satellite-monitoring methods aren't yet suitable for imaging erosion of non-sandy types of coastline.
Shoreline change is strongly influenced by climate change. Coastal erosion in particular is exacerbated by global sea-level rise, which will put Europe's shorelines – and others around the world – at increasing risk in the coming years. Knowing how, and at what rate, our coasts are changing is a crucial step to their sustainable management, supporting knowledge-based decision-making and thus underpinning the EU Strategy on adaptation to climate. The EU says the free availability of this information helps its member countries to move towards becoming climate-resilient societies.
The maps can be found at www.emodnet-geology.eu
By Jake Frith