Emissions are minimised on a new exploration, research and media vessel, thanks to its IMO Tier III compliant exhaust system.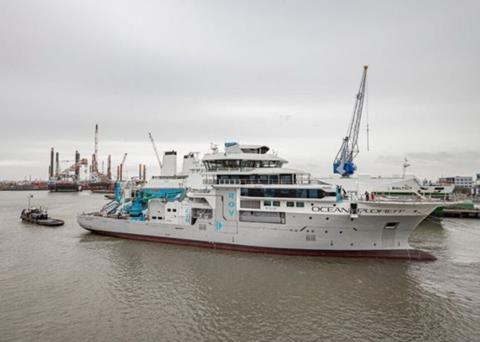 MarQuip integrated the exhaust system in OceanX's 87m expedition and research platform OceanXplorer, launched in February 2020. The company undertook the work as part of a project with Damen in Rotterdam to convert a deep-sea survey vessel into the research vessel.
"Our role was to integrate an IMO Tier III compliant exhaust system within the permissible requirements of the engine supplier," explained MarQuip. "We started by selecting the right components that fitted within the available space, a major challenge on OceanXplorer. All exhaust systems leave the ship through the exhaust funnel located on the port side. The expedition vessel is equipped with the latest diesel exhaust gas cleaning systems. Soot filtration and SCR (selective catalytic reduction) ensure that no soot or NOx is emitted."
Delicate operation
As the components are large and heavy, the chosen locations had to be strong and not compromise the stability of the ship. Once all major components were in place, customised pipes were required to form the connection between them. Some of these pipes had to be passed through the funnel "like spaghetti" as there was no alternative, said MarQuip.
For the conversion of the exhaust system, the experts at Damen had to make a hole in the superstructure. The old parts leave the ship through this hole and, after the funnel had been structurally adjusted, the new parts could be built from bottom to top. The funnel was filled "like a Tetris game" and involved close cooperation between MarQuip and Damen.
By Rebecca Jeffrey