The Port of Rotterdam Authority has awarded a contract for the construction of 2.4kms of quays and earth-retaining walls in the Princess Amalia Harbour, part of the Maasvlakte II complex.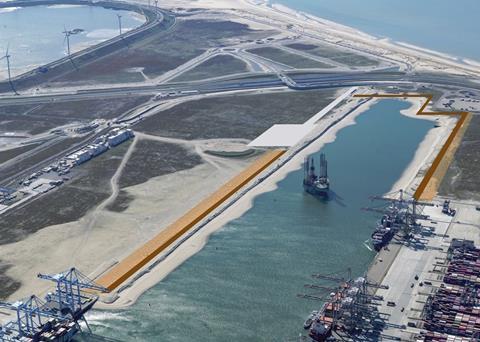 The contract has gone to a consortium comprising Hochtief, Ballast Nedam and Van Oord.
Container terminals APM Terminals and RWG are already active in the Harbour, with 1,500 and 1,700 metres of quay respectively. The construction of new deep-sea and inland shipping quays will allow these companies to develop the other sites around this harbour and both terminal operators have already signed the relevant options. The project also includes the construction of a 160-metre waiting area for general use by inland shipping vessels. The potential additional container traffic of 4 million TEUs is equivalent to an increase in capacity of about 28 percent over the 2020 annual total.
The new building work will be on either side of the harbour, which is approximately 2.5km long. This will include 1,825 metres of deep-sea quay, 160 metres of inland shipping quay and 360 metres of soil-retaining walls. This means that apart from 725 metres, the entire harbour basin, which first went into use in 2015, will be enclosed. The completion of the first 500 metres of quay wall is expected in late 2022. The final part of the project will be completed no more than eighteen months later.
In addition to the construction of the quays, which will have a retaining height of 29 metres, the work also involves dredging the quays to a depth of more than 20 metres below sea level. A rear crane track will be built on piles over a distance of approximately 1.8km for the rear legs of the container cranes that will be used here.
The quays will be fitted with a wide range of sensors to monitor forces and any deformation. In addition, ECOncrete blocks will be used at two locations to act as artificial reefs and encourage biodiversity below the water.
"We are paying particular attention to reducing emissions during the operation," says Mark van der Hoeven, Netherlands director with Van Oord. "By deploying equipment powered by Hydrotreated Vegetable Oil (HVO diesel) plus using electric construction equipment, we are fully in line with the Port Authority's ambitions to significantly reduce harmful emissions."
By Dag Pike