Belfast Harbour in Northern Ireland, has announced major plans to expand its facilities and revealed its ambition to become one of the best regional ports in the world writes Dag Pike.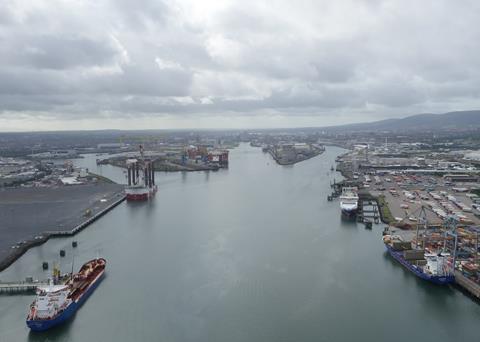 The announcement comes with the publication of the Strategic Plan for the next 5 years together with an outlook through to 2035, which were recently launched at the Annual Stakeholders' Meeting for Belfast. This strategic plan comes along with a commitment to spend £254 million to deliver new marine and estate infrastructure which is designed to secure the future of the port which is the main entry point for much of the imports into the region.
Much of the planned spending will go towards schemes to deepen the Port's shipping channel to accommodate larger vessels which are now the norm in the shipping industry. To match the increase in the size of vessels that will be able to use the port the plans also include the creation of new deep-water quays. During 2019-2023 Belfast Harbour expansion plan, new investment will be made in upgrading container cranes and other material handling equipment to cope with larger ships as well as building new storage facilities. Much of the cargo that is handled at the port comes in the form of ro-ro shipping and part of the investment will go towards installing new ramps to accommodate larger vessels particularly the two new Stena Line ferries coming into service next year.
Speaking at the meeting, the Chairman of Belfast Harbour Commissioners, David Dobbin commented, "This major investment program is really only possible because of our Trust Port status which allows us to reinvest every penny of our net earnings back into the business." In addition to the work on the expansion of port facilities the work will include the completion of the 2 million sq ft City Quays development.
In addition to the half a million truck movements through the port, there has been a significant increase in cruise ship visits and included in the expansion scheme is an upgrade in the cruise facilities with a new terminal that will allow larger ships to berth. Work will also begin on digital 'Smart Port' initiatives to provide greater automation and a new unified system to coordinate cargo and shipping communications.
As Northern Ireland's largest port Brexit could clearly have a large impact on the nature and volume of trade through Belfast, although at time of writing it is not clear what the nature of this trade will be and what further changes will be required at the port to accommodate it.