At Seawork International 2018, the Sulzer team will be on hand in the ship repair pavilion to discuss the wide range of marine repair services available through the company's global network.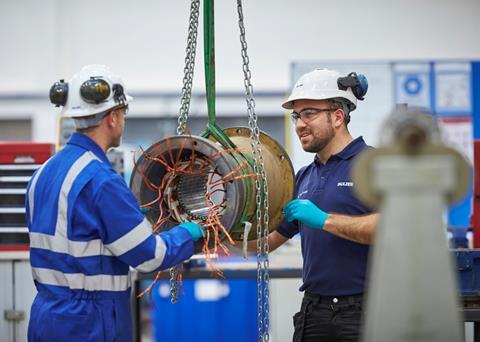 Specializing in electrical and mechanical repairs, Sulzer delivers high quality, rapid repairs for all sizes of marine vessel.
Supported by extensive repair and manufacturing facilities, Sulzer's experienced maintenance engineers offer cost-effective solutions across the marine industry. With an in-house copper rolling mill and 24-hour coil manufacturing, Sulzer offers minimum downtime for the repair of marine equipment.
By applying decades of experience in delivering repairs to a wide variety of equipment, such as motors, generators, pumps and white metal bearings, Sulzer is able to support customers and avoid stoppage time.
Within the Pacific Hall 2, experts from Sulzer's team will be on hand to discuss how to tackle marine maintenance including condition monitoring such as vibration analysis as well as the viability of on-board repairs. In addition, to coincide with the football World Cup, Sulzer will be showing some match highlights and offering visitors one-off themed giveaways.
Sulzer can remanufacture or reverse engineer a wide range of components and return them to service with many years' reliable operation ahead. For larger pieces of equipment, such as electrical generators, Sulzer engineers can minimize downtime by carrying out diagnostic work and repairs on-board while the vessel continues in play. With a long history of rewinding motors and generators, Sulzer can also modify coil designs to increase output and performance as well as new insulation systems for improved reliability.
Sulzer describes itself as the leading worldwide, independent service provider for large rotating equipment. With technically advanced and innovative service and maintenance support solutions, Sulzer provides a turnkey service that provides its customers with the peace of mind to focus on their core operations.
Included in this package is a highly efficient and dependable high-voltage coil manufacturing and supply service, delivered from a purpose built facility within the Birmingham Service Centre, UK.
With an in-house copper rolling mill, Sulzer customers can benefit from round-the-clock manufacturing to ensure that every coil is delivered on schedule.
Visit Sulzer at Seawork International 2018 on stand SR2