Construction of a badly needed new cruise terminal quayside in Bremerhaven, costing some €80 million, is starting in October, reports Tom Todd.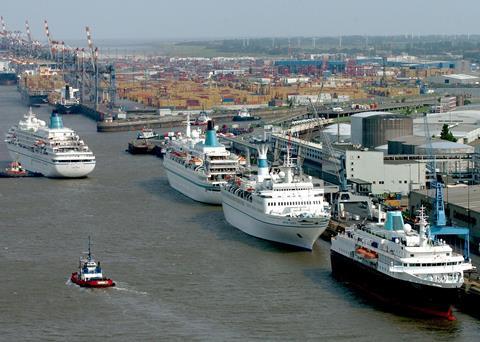 For completion in about three years, the new 834m long Columbuskai facility, last refurbished in 2003, will be the backbone of a modernised Cruise Ship Terminal designed to boost cruise business in Germany's second-largest universal seaport.
Speaking after port management company bremenports won final planning approval for the extensive project, Weser ports Senator Claudia Schilling said: "The Cruise Ship Terminal urgently needs this new quayside… it is imperative that we replace the existing quayside, which is no longer stable". Bremenports spokesman Holger bruns told Maritime Journal that the old quay structure was so unstable it had to be closed at extremely low tide.
Bremenports Managing Director Robert Howe noted another good reason for the renewal project now: it will complement and include renewal work costing some €17.7 million on the adjacent 320m Kaje 66, which is due for completion soon.
Both Kaje 66 and Columbuskaje lie directly on the Weser Estuary, the major access route to Bremerhaven. Together with Bremen, further inland, they make up the Bremen Ports which handled 66.5 million tons in 2020.
At Kaje 66, a new sheet pile wall was being rammed in front of the old quayside and a derelict former ferry berth demolished. The back area was being filled and linked with adjacent sites, including the Columbuskaje. The renovation of the Columbuskaje itself is being carried out in three stages with the new quay set about 20m in front of the existing structure and back- anchored. Bremenports said this will gain some 17,000m2 of filled and consolidated land area.
The 1st construction phase comprises a 404 m long section and starts at quay 66. The 2nd construction phase comprises a 215 m long section. It is planned to complete both sections in 2024.
The 3rd construction phase also includes a 215 m long section and its construction will take about a year, so that completion of the overall project is expected in 2025.
Plans are to limit daily winter pile work and keep terminal operation as normal as possible. Handling both the Kaje 66 and Columbuskaje projects is a consortium grouping Ed. Züblin and Tiefbau Unterweser (TAGU).