A state-of-the-art fast craft crew training simulator now features seats for two people, helmsman and navigator, as in a real boat.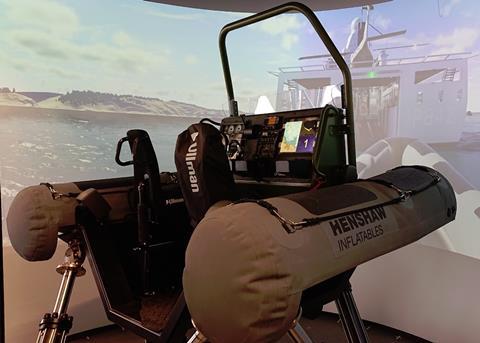 The enhanced Fast Craft Crew Training Simulator from specialist company Cruden will be unveiled for the first time at I/ITSEC 2019 (Booth 712) in Florida in December. This enhancement makes the learning experience as close to reality as possible and to train the crew as a team. Also new are incredibly detailed graphics, rendered in ultra-high definition, creating more realistic training scenarios. The simulator benefits from a taller, 4.5 metre-high, screen to cater for a larger projection system and to convey an even wider field of view.
Potential customers, including system integrators, fast craft boat builders and defence training organisations, will have the chance to learn more about the simulator's benefits to high-speed boat handling, navigation, training and drill tactics in a hyper-realistic, repeatable and safe environment. They will be able to experience the upgrades and seamless integration of the unit – both hardware and software – for themselves.
Maarten van Donselaar, CEO of Cruden, says: "We are looking forward to showcasing the latest version of our fast craft simulator to the industry at I/ITSEC. Cruden's proven ability to provide high-end systems that deliver high-fidelity, low latency visuals with realistic models and motion – all completely synchronized – is what sets us apart. Our fast craft simulator is testament to this as our system has the ability to recreate virtually any scenario an operator would experience at sea along with the unique characteristics that are associated with piloting a fast craft on water. Further to this, we want to show how flexible the Cruden system is in terms of integrating with existing or larger and complex systems."
The fast craft simulator has a number of key attributes that make it the perfect training and development tool for existing marine simulator system integrators, particularly as the flexibility of the software means Cruden's system can work with complementary tools across the market. Meanwhile boat builders are often asked to supply total solutions including maintenance and training; type-specific fast craft simulators are regularly part of the proposal today.
Cruden has developed its Fast Craft Simulator with support from industry partners including Henshaw Inflatable Solutions, Marine Specialized Technology, Norxe, Seacross High Speed Navigation, Ullman Dynamics and Volvo Penta.
By Jake Frith