The FRS Iberia shipping company has recently acquired a fast ferry with the most up-to-date design and optimized consumption.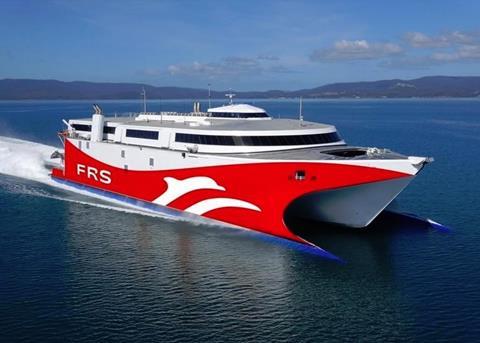 The vessel will be renamed Levante Jet and forms part of the FRS Group's expansion strategy. This new addition is an 85-metre length fast catamaran, with an aluminium hull, constructed in 2015 in the Incat shipyard in Tasmania, Australia (Yard No: 068).
Capable of reaching speeds of up to 40 knots. The Levante Jet will have the capacity to transport 692 passengers and 151 vehicles, or 330 linear meters of cargo. The ship has an optimized hull design to improve comfort and reduce fuel consumption, the vessel also has the latest-generation Caterpillar engines.
The ferry belonged to the Japanese company Sado Kisen, known for its high technical standards and commitment to quality. Moreover, the ferry will offer catering services, a shop, Wi-Fi, a children's zone and a pet's area, among other facilities.
After delivery to FRS in Japan, the vessel will be transferred to Spain and will arrive at the port of Algeciras in August, where she will be fitted out and painted in line with the recently updated FRS corporate identity. Ronny Moriana, Managing Director of FRS Iberia, has expressed his great satisfaction with the acquisition "which reaffirms our commitment to our customers". "We want to continue offering a service with the highest standards of quality and comfort for our passengers, who know that they can rely on FRS", he states.
By Jake Frith