Only seven days were needed for A1 Offshore Solutions ApS and SMST between contract signing and mobilization of the SMST motion compensated gangway on board the PSV 'Eurus Express'.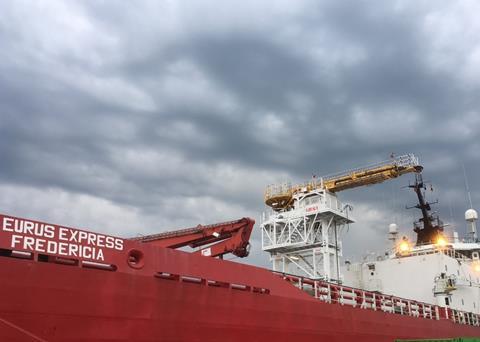 The Platform Supply Vessel is now equipped to safely transfer technicians from vessel to transition piece in the Hornsea Project One offshore wind farm.
The installation of the rental gangway, SMST's Telescopic Access Bridge (TAB) M-series, including four stacking modules for working at height, took place in Bremerhaven over just one day. When leaving the port, the operators of A1 Offshore Solutions ApS were trained on board by the SMST personnel, leaving them qualified bridge operators.
The PSV Eurus Express, with Grimsby as home port, has been contracted by GeoSea to support the installation of transition pieces in the offshore wind farm located 120km off the Yorkshire coast. The vessel will be performing its work for a period of 45 days, with an optional extension of the rental period. The project's efficiency for walk to work operations is increased by the continuous access of personnel and cargo provided by SMST's motion compensated gangway.
The SMST modular gangway M-series is suitable for a variety of vessels and operational situations. It has a small footprint, is transportable by normal container truck, can be mobilized quickly in one lift and has a large operational window. The system is remotely controlled by vessel's crew, doesn't need large generators and is inexpensive to operate, says SMST.
By Jake Frith