Vesper Marine, a New Zealand marine electronics manufacturer has announced that its latest hero product, Cortex, has completed certification requirements and is shipping now.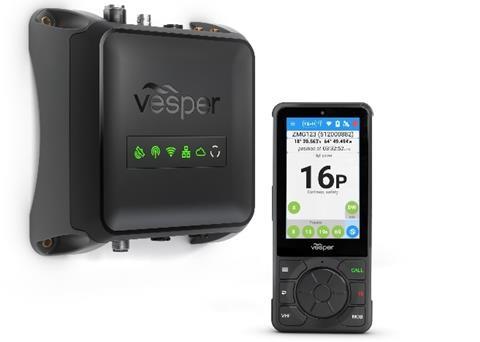 Vesper claims that Cortex is the world's first marine VHF radio with wireless touchscreen handsets, built-in Class B SOTDMA smartAIS transponder and remote vessel monitoring and will be available through Vesper Marine's network of distributors and dealers.
"With the intention of completely changing the paradigm of on board VHF communications, the development of Cortex has been years in the making," said Carl Omundsen, Chief Technical Officer, Vesper Marine. "We are delighted to announce Cortex has received regulatory approvals for North America, Europe and Australasia (FCC, IC, CE). Boaters will soon get the full benefits of the most advanced, feature-rich VHF on the planet."
Cortex alerts for collision risks, providing key information about nearby vessels and making it easy to communicate directly with them. The handset's touchscreen makes typically complicated VHF functions easy to use. For example, touching a vessel onscreen and pressing "call" makes a DSC call directly to that vessel. Cortex continuously calculates crossing situations and even allows trial manoeuvres – all while talking on the VHF radio. Up to 10 handsets, either tethered or portable, provide up to 85dBA of crystal-clear audio and are built to survive the harsh marine environment. A 10W output enables audio and alerts through an external speaker, even while handsets are turned off. Cortex includes dual-watch, favourite channels and one-handed operation via the click-wheel. Pressing the dedicated man overboard (MOB) button activates a track back mode on all handsets and marks the MOB waypoint on NMEA 2000® connected multi-function displays (MFDs).
Cortex also includes remote vessel monitoring. Standard monitoring is available at no charge to all owners. An upgrade plan offers more advanced monitoring features such as Anchor Watch, control of on board devices and real-time updates. All users receive a free 3-month trial of the upgraded plan.
"As if bringing to market the most advanced VHF in the world wasn't enough of a challenge, COVID-19 certainly threw a curve ball at the team," said Brady Cox, CEO, Vesper Marine. "Having completed our rigorous in-house and third-party testing and certification, we look forward to shipping Cortex to the many customers eagerly awaiting its arrival."
Cortex will be available from authorized Vesper Marine resellers worldwide along with a selection of installation accessories.
By Jake Frith