A major step in the Eco Flettner project has been completed: The rotor has been safely craned onto the forecastle of 'Fehn Pollux' and secured on its foundation.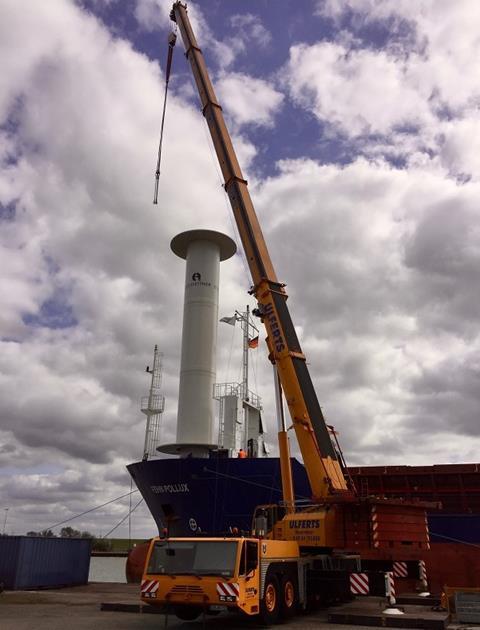 The next step will involve fitting cables and wiring between the rotor and the control console allowing the Eco Flettner to perform its first tests.
"During the last two weeks we prepared, Fehn Pollux' for this project," said Matthias Hesse, Managing Director of Fehn Ship Management. "The forecastle was strengthened, new wiring was laid and the control console for the rotor was installed at the bridge." This state-of-the-art piece of equipment will monitor and manage the prototype sail propulsion system fully automatically.
Meanwhile the crew has finished training at the Faculty of Maritime Sciences in Leer. With the Flettner rotor on the forecastle the vessel's manoeuvring characteristics will change. Faculty scientists generated a computerised twin of the 90m long vessel.
After sea trials the vessel will return to her normal routine as merchant vessel and sail between ports in the Mediterranean, the Black Sea, Northern Europe and the Baltic. During the next twelve months scientists of the University for Applied Science Emden/Leer will evaluate the efficiency of the additional propulsion system under real conditions. The consortium, which initiated and built the 18m high cylindric rotor, is convinced that this real-world test will show that Eco Flettner is able to fulfil its purpose and save fuel.
By Jake Frith