Abels Shipyard in Bristol, UK is close to completing work on converting a harbour ferry into a medical ship to operate in South America.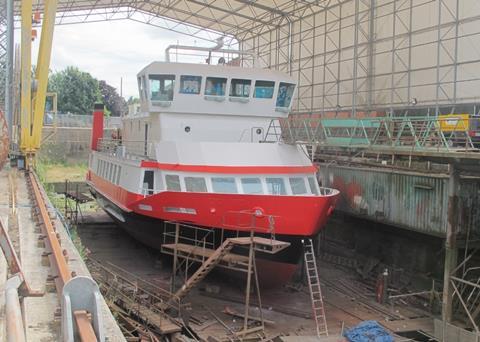 The ferry was the second vessel built at the yard for operating in Portsmouth Harbour but was never completed due to the customer cancelling the order and has remained in partially completed state at the yard for the past 12 years awaiting a buyer.
With its shallow draft and large internal space this 32 metre vessel was ideal for its new role as a medical ship to operate in remote areas of South America. It will be owned and operated by the Vine Trust and once the main structural and engineering work is completed at Abels, it will steam to Rosyth in Scotland for the final fitting out work which is being done at the Babcock yard before sailing on its own bottom across the Atlantic.
The work done at Abels yard has been focussed on extending the hull, installing a main engine and auxiliaries and adding to the superstructure. In order to make the vessel more seaworthy the bow has been extended by 4 metres into a more conventional bow shape and bulwarks added. The superstructure has been extended to create space for both medical and dentistry facilities and to provide crew accommodation. The raised wheelhouse has been completely refitted.
A new Caterpillar C12 diesel of 380 kW has been installed aft. This is solidly mounted and drives a single 5 bladed propeller to give a top speed of 11 knots. Two Caterpillar generator sets of 70 kva have been added plus a 20 kva harbour generator. The fuel tanks have been designed to hold 30 tonnes to extend the range and the water tanks will hold 15 tonnes.
On completion the vessel will be classed by RINA for unrestricted sea-going operation. The Vine Trust currently operates three medical ships, one in Africa and two in South America.
David Abels has been operating this shipyard in Bristol for over 30 years and on completion of this medical ship the yard in its present form will be closing down. The yard is based around a large dry dock that is over 200 years old and which was previously part of the Charles Hill Shipyard. The dry dock is a listed 'building' and is owned by Bristol Council and its future is uncertain although it appears that the Great Britain Trust which houses the SS Great Britain in the dry dock next door is interested in taking it over. It is likely to be used for the restoration of older sailing vessels as part of a training project.
By Dag Pike