Fugro has begun a pre-installation and route engineering survey project to support their client, Xtera, on a major fibre-optic cable installation between Norway and the UK.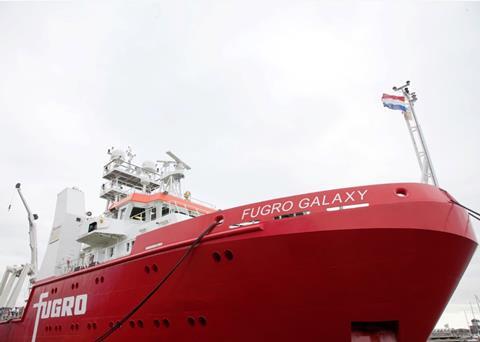 Xtera has engaged Fugro to help make the NO-UK cable system one of the most secure data traffic routes across the North Sea by advising on final route selection and specifying the required burial conditions to minimise risk of cable damage from anchoring and trawling.
With a capacity of up to 216 terabits per second, the new fibre-optic cable system will significantly increase data capacity between Norway and the rest of the world and will be in service by late 2021. Enabling risk-free installation, and employing a consultative engineering approach, Fugro's project will run for approximately 70 days and comprises a geophysical survey, and shallow geotechnical testing with environmental sampling, analysis and testing, to generate a thorough understanding of the planned route. The Fugro Galaxy, Fugro's multipurpose 65 m vessel, is supporting the offshore activities and Xtera will benefit from near-real-time Geo-data access and office-based support via various proprietary remote technologies, including Fugro's Back2Base.
By Jake Frith