Two major Italian maritime boatbuilders have announced that they have reached a cooperation agreement with the goal of developing commercial and industrial synergies between the two companies.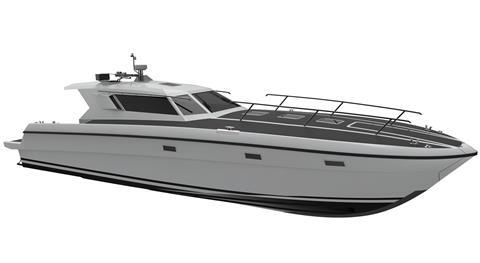 Fincantieri and Ferretti are both leaders in their respective markets and it is anticipated that the cooperation will lead to the sharing of expertise and marketing.
The agreement relates to the security and defence sector and to the recreational yachting industry. In both areas, the two companies have complementary capabilities and expertise that can lead to significant synergies. The Ferretti Group is a relative newcomer to the security and defence sector where they are now offering a range of patrol boat designs that are based on the hulls developed for the leisure sector. These patrol boat designs are marketed under the FSD (Ferretti Security and Defence) name and are based on the hulls from the Pershing range that has been developing high speed designs for the past 30 years. The current patrol boat range on offer extends from 15 to 35 metres.
The agreement has been signed by the CEO of Fincantieri, Giuseppe Bono and the CEO of the Ferretti Group, Alberto Galassi. Fincantieri is the world's largest shipbuilding group and they claim to be the number one by innovation and diversification whilst the Ferretti Group is one of the most globally recognized yachting companies. They share a particularly interconnected market view, especially after the foundation of FSD, Ferretti Group's division dedicated to security and defence. This is one of the factors that allowed the creation of the partnership between the two groups, strengthening its success.
The top management of the two companies are committed to put the cooperation into work on specific themes and business opportunities as soon as possible. These projects will cover civil and military sectors at both national and international level.
"We are very pleased to work together with Ferretti Group because Fincantieri even though it is continuing its internationalization path, does not forget its Italian roots and is keen to network into a system with all the Italian companies that believe to be able to grow together and contribute to their international expansion. In fact, we strongly believe that this agreement will have a significant effect on Italy's economy demonstrating, once again, that the entire "country system" must be the driver for Italy's future growth", commented Giuseppe Bono.
"We are certain that we will be able to develop important synergies that will bring benefits not only to both organizations, but especially to the customers, which are particularly keen on product innovation, reliability of supply and ever more demanding to receive outstanding service level. These factors have become the priority of our strategies and associate us with the vision of Fincantieri's leadership." commented Alberto Galassi.
By Dag Pike