Hochiki life safety products are helping Margate offshore Wind Farm meet its fire detection obligations.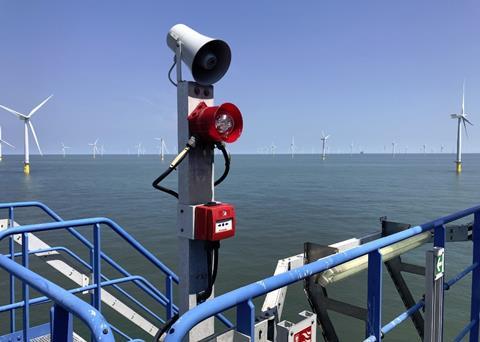 KM Security Solutions are the contractors responsible for the security, fire safety and evacuation systems on board the offshore and onshore substations, and for them life safety is the number one priority and all systems must be reliable in the harsh conditions encountered offshore.
Dan Smith, Technical Services Manager for KM Security Solutions explains: "The constant change in weather combined with sea-salt spray makes offshore wind farms an incredibly hostile environment to work in, not only for people but also for the systems, cabling and devices that help to run it and keep it safe. Therefore, it's imperative we install life safety devices that won't let the teams and premises down in an emergency."
"You need to ensure that the life safety products you install are fit for purpose and more importantly weatherproof. The Hochiki products specified are designed to be waterproof and have lasted extremely well. Which is incredible considering the environment they are operating in."
For this project Visual Alarm Devices (VADs) combined with the CHQ-WPK Weatherproofing Kit, IP-rated manual call points and the Hochiki FIREvac Voice Alarm system was installed across the windfarm's sub-stations. As well as being simple to install, one of the USPs of Hochiki Life Safety devices is the flexibility to be able to operate alongside other brand products via Hochiki's open protocol, ESP. Although Hochiki do manufacture their own fire control panels, such as the L@titude platform, in the case of the Margate Wind Farm project, a control system was already in place, and it was the devices which needed the upgrade.
The other benefit is the fact that Hochiki provide isolating devices. When you consider the scale of a life safety system on board a Wind Farm Rig, you can imagine the chaos that would ensue should part of the system fail. "Failures can arise from parts of the system experiencing erosion from the weather, where plastic parts can break down, allowing water ingress, causing short-circuits which could impact the entire life safety system onboard. Using isolating devices prevents an entire system from going down, isolating only the part that has failed, saving time, money, and materials."
By Jake Frith