Rolls-Royce and Finnish state-owned ferry operator Finferries have successfully demonstrated what is believed to be the world's first fully autonomous ferry and its ability to detect objects utilising sensor fusion and artificial intelligence and conduct collision avoidance.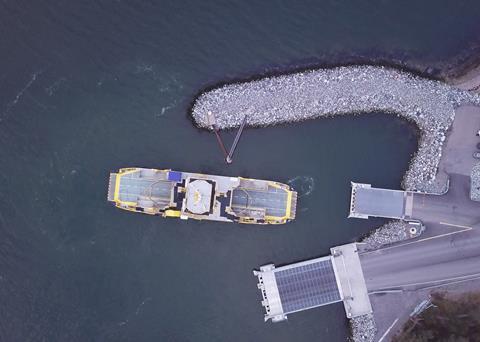 Finferries' 54m long double-ended car ferry Falco, equipped with twin azimuth thrusters from Rolls-Royce, used a combination of Rolls-Royce Ship Intelligence technologies to navigate autonomously during its voyage in the archipelago south of the city of Turku, Finland. It also demonstrated automatic berthing with Rolls-Royce's Autodocking system. The return journey was conducted under remote control.
Earlier this year Rolls-Royce and Finferries began collaborating on a research project called SVAN (Safer Vessel with Autonomous Navigation). Mikael Makinen, president of Rolls-Royce - commercial marine, said the demonstration "marks a huge step forward in the journey towards autonomous shipping and reaffirms exactly what we have been saying for several years, that autonomous shipping will happen."
Advanced sensors
Falco was equipped with a range of advanced sensors which allows it to build a detailed picture of its surroundings, in real time and with a level of accuracy beyond that of the human eye. The situational awareness picture was created by fusing sensor data and relayed to Finferries' remote operating centre on land, 50km away.
Rolls-Royce's Autodocking system enables the vessel to automatically alter course and speed when approaching the quay and carry out automatic docking. During the sea trials, the collision avoidance solution was also tested in various conditions for several hours of operation.
By Rebecca Jeffrey