The first UK-bound 13.6m ORC 136 built by Goodchild Marine Limited and featuring a wave piercing design for fuel efficiency was handed over to Estuary Services Limited at Seawork.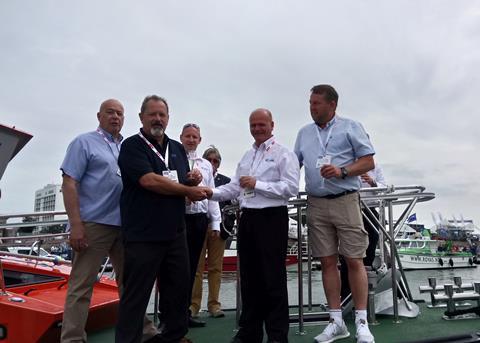 Alan Goodchild, managing director of Great Yarmouth-based Goodchild, handed over the pilot vessel to Estuary's general manager Ian Lord, who explained that the vessel would be headed for service from either Ramsgate or Shearness, both in Kent.
Mr Lord stated: "This is now our third ORC vessel built by Alan and his team at Goodchild. We're very pleased with the quality, finish and performance of this boat."
Carbon fibre structure
With a build time of 10 months, the vessel's structure incorporates carbon fibre designed to make it lightweight and robust, while the fender system absorbs impact to mitigate structural damage to the hull from contact with ships.
The wave piercing design of the hull is designed for maximum fuel efficiency on power to weight ratios, the boat is also built for reduced noise levels and the air intake has a "ram effect" where the warm air is expelled over the windscreen which helps in the demisting process.
Mr Goodchild commented: " Because of the exceptional low drag factor of the hull it lends itself to the hybrid power option. We've just been lucky to secure the UK's first hybrid pilot boat contract with the Port of London Authority and that is based on an ORC 136 and on the back of this boat here we have sold two to Briggs Marine who will take them to Liverpool."
Briggs Marine order
The two ORC 136 vessels for Briggs Marine will be the same as the first UK vessel - built using the same design as the 17m vessels by naval architects Pantocarene, adapted by Goodchild Marine for the UK market.
They will include Volvo engines provided by Essex-based Volspec Limited and an iRAMS vessel engine and asset management system, with a real-time monitor and satellite feed.
By Rebecca Jeffrey