The first of three 30m identical hybrid ferry newbuilds for commuters on Germany's busy Kiel Canal is going into service soon, reports Tom Todd.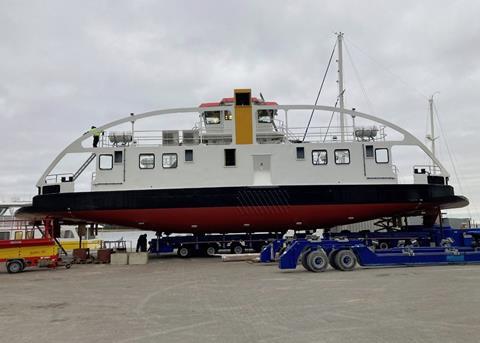 WSV spokeswoman Claudia Thoma told Maritime Journal the first of the identical ferries would now enter service during the first quarter of the new year with the second following in the summer and the third in autumn.
The boats are being built at Baltic Workboats in Estonia, which said it won the work for the German Government's Waterways and Shipping Administration (WSV) out of a total 14 bidders. The trio kicks off a new fleet of ferries, all with the same hybrid technology, on the world's busiest man-made waterway and also replaces older boats. WSV President Hans-Heinrich Witte said when the orders were placed in 2018 that the newbuilds were "the forerunners of a new generation of ferries on the Kiel Canal. They will carry pedestrians, cyclists and vehicles comfortably and in a low-emission environment across the waterway", he added.
The German Government is putting up €21 million for the first three boats and Thoma said it was planned to replace thirteen further boats over time for a total of sixteen newbuilds.
Tenders to build the remaining 13 will be invited as soon as the first three have been successfully tested. However no specific time-table for further acquisitions has been decided, she told Maritime Journal.
The first three ferries will be 9.6m wide overall, draw maximum 1.48m and have a 24m long vehicle lane and a load capacity of 45 tons.
The VSV said they would have "particularly eco-friendly hybrid propulsion systems". Thoma said each boat would be equipped with two Voith Schneider VSP 12R4 cycloidal propellers and that a 297kW Volvo motor would drive the Diesel generator. The integrated hub of the power and drive concept would be a battery-supported, diesel-electric hybrid system supplied by Siemens, she reported.
The ferry trio now entering service will replace the oldest ferries currently on the 98kms canal – Nobiskrug, Hochdonn and Audorf. All were built in the early 1950s and have been in service for nearly 70 years. They are among twelve 45 ton and two 100 ton capacity ferries on the canal. All are regularly maintained at local yards, along with two 45 ton capacity reserve ferries.