Classification society Bureau Veritas has issued its first certificate under the ISPO (International Standard for Maritime Pilot Organizations) standard of best practice for pilots and pilot organizations to the Pilotage Authority, Port of Cork, Ireland. The ISPO certification covers the Pilotage services and Vessel Traffic Management System.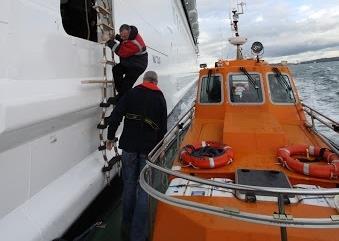 The ISPO is an accessible industry specific standard, managed by a group of users, that improves safety and quality and provides transparency to shipowners and stakeholders on pilotage standards.
Philippe Donche-Gay, Executive Vice-President and Head of Bureau Veritas Marine & Offshore division, said, "The Port of Cork has adopted this industry code as a means of building continuous improvement into its pilotage operations. Bureau Veritas is pleased to be able to audit the pilotage and support this initiative. It is part of our own continual drive to support and deliver services which help shipowners and the marine community operate more effectively."
Paul O'Regan, Harbour Master, Port of Cork, said, "Port of Cork Pilots have always been at the forefront of the industry when adapting to change and in consistently achieving the highest levels of safety and operational standards. The accreditation by Bureau Veritas from ISPO recognises the fact that the Cork Pilots and Pilotage Authority have, for many years, had a systematic approach to achieving first class port operations. The Port Company and Cork Pilots have worked hard with BV over the last twelve months in order to meet the requirements of ISPO and I believe this standard will achieve global recognition. The pilots and ports that achieve ISPO will be best placed to meet the needs of our maritime customers."
The ISPO certification for the Port of Cork covers twelve pilots which safely managed mixed marine traffic handling over 9 million tonnes of cargo and 56 cruise ship calls during 2015.
By Jake Frith