The first use of an Autonomous Surface Vehicle (ASV) to perform bathymetry for updating the U.S. nautical charts for NOAA has taken place this summer. Surveying alongside a mother-vessel, the ASV collected data simultaneously on adjacent survey lines, effectively doubling the production rate of data.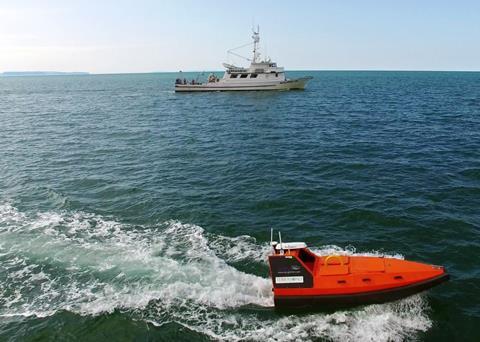 The ASV was also used to survey inshore shallow waters that were considered too dangerous for the mother vessel to work in, eliminating some risk to the survey team. This survey work was carried out by TerraSond under contract to NOAA. Ton Newman, the President of TerraSond commented, "This is a force-multiplier for survey data acquisition. Operated in a semi-autonomous mode, unmanned but supervised, one person can replace the three person crew it would normally take to operate a survey launch; this is definitely the future of seafloor mapping."
The unmanned survey boat was supplied by British company ASV which offers a wide selection of autonomous craft for science and survey as well as for military requirements. The mother ship was the R.V. Qualifier, which is a 105 foot vessel which was specially adapted for the deployment and recovery of the ASV. The survey was funded by the U.S. National Oceanic and Atmospheric Administration's Office of Coast Survey (NOAA-OCS) as part of their mission to update the Arctic's nautical charts.
TerraSond has been providing surveys under contract to NOAA for updates of the U.S. nautical charts since 1998. TerraSond provides precision land and marine geospatial, geophysical, and geoscience survey solutions dedicated to imaging the earth worldwide.
By Dag Pike