The first of four shallow-draught Arctic tug/salvage vessels has been launched at Neva Shipyard for the Federal Agency of Maritime and River Transport of the Russian Federation.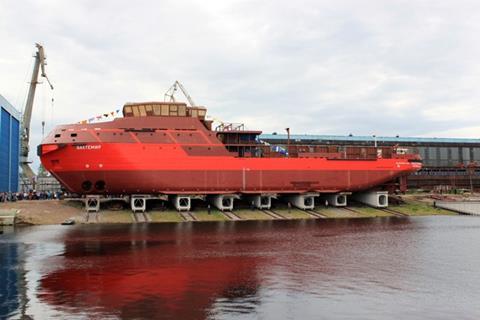 Recent times have seen a succession of vessels, from the shallow-draught MPSV12 series covered here to the MPSV07 multipurpose salvage vessels (see MJ February 2016) all delivered to various Russian government departments as the country continues its expansion of salvage, towage and rescue capabilities.
Space does not permit a detailed listing of operational requirements for the Bakhtemir and sister vessels but includes: patrolling; salvage; search and rescue; towing; delivery of general and liquid cargo and personnel and ROV operations.
The MPSV12 series are designed by Marine Engineering Bureau (MEB), a non-state design and engineering company. They are classed by the Russian Maritime Registry of Shipping with the notation KM*, Arc 5(1), AUT2, FF2WS, DYNPOS-2, Salvage Ship. Main dimensions are: 79.8 LOA, beam 17.3m, minimum draught 3.2m and maximum draught 4.5m. Fuel, water and provisions are carried allowing continuous operation for 30 days.
The multifunctional nature of the vessel resulted in complexities with the detail of various elements including hull form. MEB therefore carried out extensive investigations to determine final design detail based around five operational modes: operation at 70% full speed for patrolling and passages; free-running full speed for rescue salvage response; towing operation speeds; pulling power for refloating grounded vessels and finally ice navigation including icebreaking operations.
Shallow-draught requirements are due to 5m draught restrictions at around 20 ports in the vessels' operational area with access required to ports in: The Black Sea, Azov Sea, Caspian Sea, Baltic Sea and ports of the eastern coast of Kamchatka, including the Gulf of Anadyr. There is also a minimum draught requirement to allow approaches to grounded vessels outside of deepwater fairways.
Particular attention was paid to determining the machinery provision and layout. MEB state it recognises that for vessels with limited draught, free-running speed and propulsive effort are limited by factors connected with machinery choices. In turn main engine power is determined by limitations of propeller diameter for preventing aeration and cavitation.
Main machinery comprises two diesel engines delivering 2,600kW each and a speed of not less than 14kn at 3.2m draught and 85% MCR. Auxiliary machinery includes two 750kW diesels gensets, two 1,600kW shaft generators and a single 125kW emergency genset. Propulsion arrangements comprise two ice-protected controllable-pitch propellers in nozzles and semi-pendant, semi-balanced rudders with flap. Twin bow and single stern transverse thrusters each of 790kW with controllable-pitch propellers are included to aid manoeuvring and satisfy Dynpos-2 requirements.
Deck machinery includes a 100t double-drum 'cascade type' towing winch supplemented by a 60t towing hook with remote release. Two electro-hydraulic cargo cranes are included on the main deck aft each side, one with capacity of 24t at 15m outreach and the other 0.98t at 2.5m outreach.
As is standard with multipurpose salvage vessels, provision for additional equipment depending on the mission requirement is essential. Space and services are therefore included for a mobile 60m depth diving unit (equipment contained in two 20ft containers) and two ROVs, one to 3000m and the other to 300m depth.
An extensive oil recovery installation will be provided for the series including two gathering systems with hydraulic pumps (100m3/hr capacity) along with reels holding various configurations of booms and two high-speed boom-laying boats with bow ramps. On board tanks will have capacity for 500m3 of recovered oil.
An independent water, foam and dry powder fire-fighting system is intended for tackling external fires along with the vessel's own fire suppression systems. These meet RS FF2WS requirements with both water and foam delivery to four sets of portable air-foam monitors and foam generators. Normal crew compliment is 12 persons with provision for 24 additional personnel, the vessels will also have capacity for 87 rescued persons supported by doctor's consulting room, dispensary, two berth hospital and single berth isolation ward.
By Peter Barker