UK vessel builder Goodchild Marine has reported considerable interest at Seawork International in its fresh-out-of-build Liverpool pilot boat.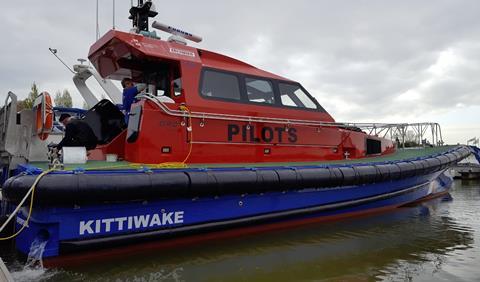 A total of three ORC 171 Fast Pilot vessels were ordered in 2016 and have been designed by French naval architect Pantocarene for the builder, Goodchild Marine in Great Yarmouth.
The 17 metre craft Kittiwake, which is the first of the three vessels to be completed, wrapped up trials early May and is set to join Briggs' long-term contract in the Port of Liverpool, as part of a fleet renewal. Further orders are in the pipeline. The vessel was a last-minute addition to the extensive Seawork vessel line-up.
Briggs Marine operations director Iain Ross said: "After seeing the ORC craft in action, we were very impressed with its design which encompasses safety, comfort and fuel efficiency. This particular model was deemed the best in market to address the requirements of a long-term contract in Liverpool, and the challenges posed by this particular area.
"We continue to invest in our people, our processes and our assets to ensure our capabilities remain at the very highest standard, and the addition of these three new vessels will allow us to continue offering a first-class service."
By Jake Frith