The new Damen US office has got off to a good start with its first order for four new Damen 3711 Stan Tugs by Young Brothers Ltd, Hawaii's largest inter-island cargo service provider.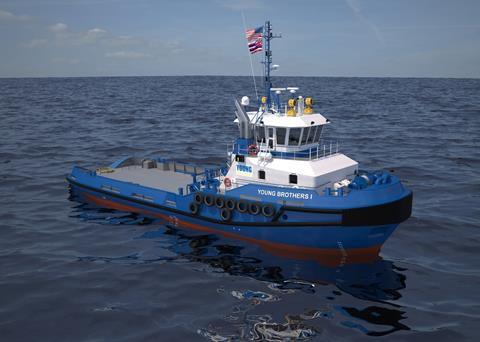 These tugs will be built at Conrad Shipyard, Louisiana, under a license and materials agreement with Damen.
Jan van Hogerwou, new construction manager, Damen US, said: "With over 200 Damen design vessels built and delivered in the US, this has been an important market for our vessels for many years via our flexible licensing agreements, and we have enjoyed excellent cooperation with shipyards across the country."
"This latest initiative will enable us to strengthen our relationships further with both builders and operators, and serve the North American market with the innovative, cost-effective and dependable vessels that it seeks."
The first vessel will be delivered in the first quarter of 2018 and the last twelve months later. Together, the 37m, 6,000 hp tugs will service Young Brothers' fleet of modern, high-capacity tugs and barges.
Damen's new US office (Damen Area Support North America BV Co) opened on 1 August in Houston, Texas. It is headed up by senior managers Jan van Hogerwou and Ruud Haneveer.
This move is part of Damen's policy of expanding its local footprint around the world, bringing it closer to current and prospective clients and enabling it to deliver a more responsive and personal service.
The choice of Houston as the location of the new office is also intended to send a message to the offshore oil and gas sector in North America that Damen is committed to supporting and working with vessel owners and operators to maximise efficiencies and minimise costs, despite the current downturn.