A UK offshore energy support vessel operator has invested in innovative multi-hull BARTech 30 crew transfer vessels.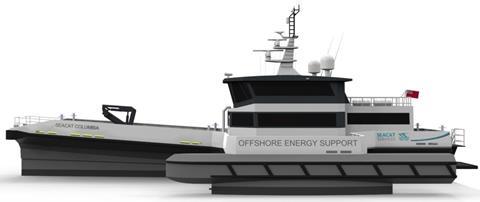 Offshore energy support vessel operator, Seacat Services, has ordered two next generation multi-hull crew transfer vessels from world leading naval architects, BAR Technologies, designed in partnership with Chartwell Marine, a pioneer in next-generation vessel design.
With UK build and construction of the first vessel expected to be completed by Q1 2022, this order amplifies the collaboration between the three South Coast experts as they work to strengthen Europe's offshore energy supply chain.
The new BARTech 30 is a true game changer in green vessel design and will work in tandem with Seacat's existing OESVs, further refining the operator's winning formula for operational excellence. Representing a unique evolution in the make-up of the fleet, the new vessels – Seacat Columbia and Seacat Cambria - will reinforce Seacat's commitment to the decarbonisation of the workboat sector.
Cutting emissions is one of the biggest challenges facing the offshore wind and broader maritime sector amid rising global awareness of its environmental impact. Naval architects BAR Technologies and Chartwell Marine have focused instead on creating fuel efficiency through a highly optimised multi-hull design, working alongside BAR Technologies' patented Foil Optimised Stability System (FOSS). The designers say this will cut CO2 emissions by up to 600 tonnes per annum if working on a 12 hour shift of operation.
Seacat Columbia and Seacat Cambria will consequently be among the first true 'Low Emission Vehicles' (LEVs) servicing the offshore wind market, with total emissions 30% lower than conventional CTV designs.
By Jake Frith