Two new multi-purpose, eco-friendly icebreakers have gone into service in Germany's biggest seaport, Hamburg, and will be followed by an even bigger pair of all-rounders later this year.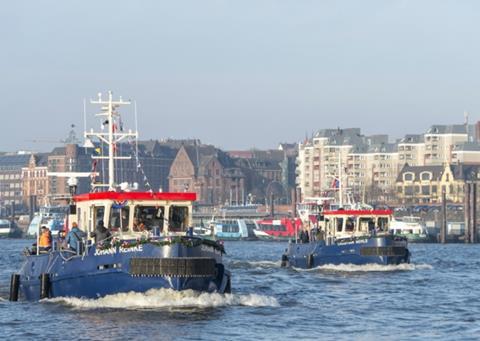 Built by Hitzler Werft in Lauenburg, the 18m long and 6.2m wide Type 3 Christian Nehls and Johann Reinke reportedly cost about €3 million each and are driven by MAN D2842LE412 main engines of 558kW. Drawing 2.2m, the boats are for service in the port of Hamburg and on the River Elbe.
Operators Hamburg Port Authority (HPA) said their tough engines were specifically designed for icebreaking, as were their sturdy hulls which are modelled on proven older designs and will cope with ice 0.35m thick at 2knots. But the new boats will also be used for a wide range of other duties including tug and towing (bollard pull about seven tons) and general transport work, the HPA said.
Engine emission ratings were 30% below the required norm, it added. It listed a series of further eco-friendly features for the new boats, including low-sulphur fuel, additional soot particle filters in their John Deere 3029/40kVA auxiliary diesels, water lubricated shaft components and engine heat re-use. They will also have Reintjes WAF 665 gearings.
HPA spokesman Martin Boness told Maritime Journal a study had been undertaken to determine how big a ship had to be before LNG drive was feasible. In the case of the HPA boats "there are currently no engines available for this type of ship that would make such operation possible".
Christian Nehls and Johann Reinke are part of a wide-ranging fleet renewal programme in Hamburg and replace two older units and they are being followed by two bigger icebreakers also for multi-purpose duty units. Boness told Maritime Journal they are also being built at Hitzler Werft to the same technical and environmental standards for delivery this summer and winter.
Hugo Lenz will be a 23m long and 7m wide Type 2 icebreaker drawing 2.6m and driven by a 1066kW ABC 6DZC main engine providing 11knots and with a bollard pull of 9.5tons. It will have a Reintjes WGV 482 gearbox and a John Deere Type 4045/61KVA auxiliary diesel with soot particle filter.
The final icebreaker, the Type 1 Johannes Dalmann, will be the biggest of all at 30m x 8.5m and draw 3.2m. It will be driven by a 1354kW ABC 8DZC engine providing 12 knots and with a bollard pull of about 13 tons. Johannes Dalmann will have a Reintjes WAF 1945 gearbox, the same John Deere auxiliary as Hugo Lenz and like that boat cope with ice 0.45m thick. It will also carry a one ton SWL hydraulic crane.
All four boats have land-link electrical supply connections as standard.
By Tom Todd