The Atlantic Endeavor crew transfer vessel (CTV), owned and operated by Atlantic Wind Transfers, America's first CTV operator, has recently been delivered to support Dominion Energy's Coastal Virginia Offshore Wind (CVOW) pilot wind farm.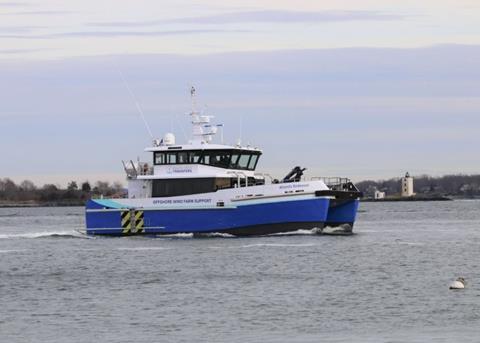 Naval architect Chartwell Marine, headquartered in the United Kingdom, oversaw the vessel's construction despite travel restrictions from the coronavirus pandemic. Chartwell Marine used data-driven analytics to foster an open and collaborative process with Atlantic Wind Transfers and U.S. commercial boat builder Blount Boats & Shipyard in Rhode Island.
AWT opted to equip the vessel with advanced surveying equipment to prepare for future operations in the region, supporting wind farm owners and operators, such as Dominion Energy, as additional generation capacity comes online. The U.S. East Coast will require diverse operational profiles and versatile fleets, and flexible vessel platforms will be a cornerstone for building these vessels.
"Even with the pandemic, international collaboration to build out an innovative U.S. CTV fleet has continued," said Andy Page, Managing Director of Chartwell Marine. "We've been proud to continue working remotely with Blount to deliver a vessel to AWT's specifications".
With several gigawatts of offshore wind capacity to be installed the next few years, the U.S. offshore wind sector must rapidly build out its maritime supply chain to ensure new projects can be constructed, operated and maintained effectively.
AWT's Atlantic Endeavor joins the Atlantic Pioneer, the first CTV to be launched in the US market.
By Jake Frith