The distinctive X-Stern, devised by Norwegian ship designers and builders Ulstein, is now providing feedback in commercial use as the 'Windea La Cour' has entered service at the Gemini offshore wind farm.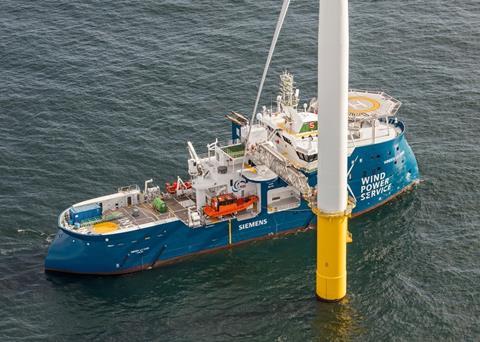 On sea trials the ship managed to keep a speed of 12.1 knots astern compared to 13.95 knots ahead. According to Ulstein, this capability increases flexibility when manoeuvring within the wind farm.
Ulstein Group introduced the X-Stern hull line innovation at the ONS maritime exhibition in Stavanger. Shortly after, two Service Operation Vessels (SOV) for the offshore wind industry were contracted by BS Offshore, Germany. The vessels were chartered by Siemens.
The X-Stern is a pointed stern instead of a conventional transom (flat) stern- designed primarily for flexibility in operations. Comfort is increased due to reduced vibrations and slamming. Flexibility and comfort are key assets to the Windea La Cour, which will be accommodating, transporting and transferring technicians from shore and to the wind turbines in the Gemini wind farm offshore the Netherlands. The vessel can swiftly move between wind installations.
The X-Stern shares much of the same characteristics as the similarly distinctive X-Bow bow design, which is also a design element in the Windea La Cour. The vessel will experience no bow or stern impact in terms of slamming, as the acceleration levels are lower. Also, vibration levels will be lower and the sustained speed is higher. The X-Bow technology recently celebrated 10 years in the marketplace and has won multiple accolades during that time.
Yard number 309, the Windea La Cour was built by Ulstein Verft, delivered on 23 June 2016. Ulstein Verft is an experienced yard with a history dating back to 1917, and is specialised in building advanced prototype vessels, as well as taking on ship repairs and conversions, which includes engineering.
The second BS Offshore SOV vessel from Ulstein Verft is built, equipped, painted and due for launch before the end of this year.
By Jake Frith