Global maritime contractor Van Oord has signed a five-year partnership agreement with Shell Marine covering the lubrication needs for its entire fleet of vessels.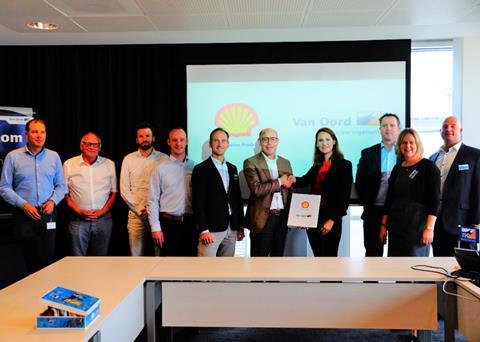 The all-inclusive agreement was acknowledged in a special ceremony, staged at the Van Oord headquarters in Rotterdam, where Jaap de Jong signed on behalf of Van Oord and Inbar van de Burg reciprocated on behalf of Shell Marine. The final deal evolved to reflect Shell Marine's commitments to time-critical delivery of lubricants for use on Van Oord vessels worldwide, while minimising cost overheads and offering continuous logistics and technical support.
"We are involved in dredging, oil & gas infrastructure and offshore wind projects around the world," said Jaap de Jong, Staff Director Ship Management Department at Van Oord. "We must have 100% reliability and optimum efficiency wherever our vessels are operating, and we must also be able to demonstrate the sustainability of our operations to meet our own goals of corporate social responsibility and those of the authorities we work with"
Van Oord will take advantage of Shell Marine's LubeMonitor 4T programme to minimize lubrication feed rates and oil consumption. Shell Marine's unique Marine Integrated Lubrication and Expert Solutions (MILES) proposition seeks to optimise customer benefits by bundling the supply of high-performance lubricants together with an array of technical services, logistics and delivery options tailored to the client's requirements.
By Jake Frith