Climate change is likely to accelerate the effects of coastal erosion in many parts of the world. UK company Quest UAV says that its fixed wing Unmanned Aerial Vehicles (drones) can provide long-term erosion mapping like no other technology.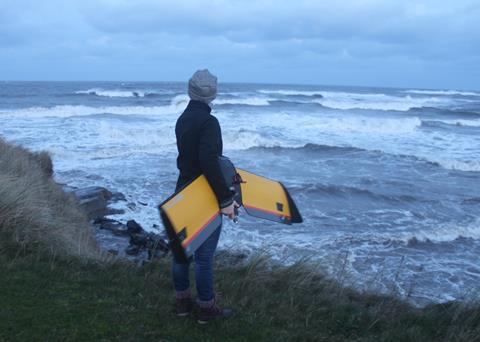 In the UK alone, the British Geological Survey states that across England and Wales 113 000 residential properties, 9000 commercial properties and 5000 hectares of agricultural land are within areas potentially at risk of coastal erosion.
Mitigating the effects of climate change requires coastal protection studies and coastal protection measures. As every planner knows, though, this increases the burden of allocating ever reducing financial resources.
Accurate studies of the change, gleaned from historical studies, combined with best practice from current studies and environmental factors allow the most effective and efficient decisions to be taken in coastal protection anywhere in the world.
Drones are a great asset for monitoring the stability of a coastline and for carrying out a rapid initial survey after a storm event. Erosion monitoring, assessing cliff stability, monitoring coastal vegetation and changes in land volume or coastline state are only a few examples of the applications of UAVs in coastal areas.
Advanced technology is required to enable UAVs to perform accurately in turbulent coastal conditions. Quest's Q-200 PPK UAV boasts an airframe design and sensor gimbal ensure data quality even in turbulent conditions with wind speeds up to 65 km/h.
PPK TECHNOLOGY SAVING TIME AND MONEY
Latest PPK (Post Processing Kinematic) technology on board drones allows survey mapping of an area down to 2cm spatial accuracy without the need of Ground Control Points (GCPs).
GCPs are normally not easy to place along the cliffs and dunes of a coastline, so the use of PPK technology makes surveying quicker and less expensive.
UAVs have been used for a variety of coastal surveys across the world, such as:
* Rapid pre- and post-storm assessment to quantify forecasted storm impacts
* Large industry environmental monitoring: nuclear power stations / mining sites
* Coastal property monitoring (insurance)
* Monitoring coastal sand digging activities (cement)
* Habitat monitoring / sea colour surveys
* Breakwater inspections
* Geological cliff and rock surveys / baseline surveys
The Northumberland coastline is designated as an Area of Outstanding Natural Beauty (AONB) and conservation area due to its significant landscape and wildlife values.
Quest UAV has been conducting its own study, and began collecting data aerially along the local coast of Northumberland between Alnmouth and Cresswell back in 2008.
Since 2008 the local coast has been hit by two exceptionally strong flood events - one in November 2013 and one more recently on the 13th of January 2017.
LONG TERM IMPACT
Immediately after the latest storm crews flew the local coast, assessing the impact of the floods on the basis of the long-term image series. The workflow involved a correlation of information from historic sources, satellite imagery and 3d-modelling.
The concentration of the survey was on the less protected dune land, especially to see how much property owners have lost from erosion.
Crews flew the site with a Q-200 PPK drone which has the great advantage of surveying an area with centimetre-level accuracy without the need for GCPs. The UAV provides images with a spatial resolution of 2.9cm at 400ft.
Calculations from time series photography showed that approximately 850 tonnes of dune and dunefoot was lost along an 80 metre stretch of coastline and the high water mark receded by up to 2.2 metres at the most critical point. The expected slumps that will happen as a result of erosion at the toe are expected to carry a further 300 tonne loss within 12 months.
To see the long-term development of the coastline a flight was also included from January 2013 in the analysis. The good news is that the coastline (in the part of the world covered by this particular study) seems to recover over time.
The storm event in November 2013 had comparable impact as the latest flood. Fortunately, sand, stones and organic matter deposits along existing structures and the coastline recovers over the years.
As long as the big storms do not increase in frequency, the hope in Quest's backyard of Northumberland, UK is that the local coast will not particularly be endangered by coastal erosion. Monitoring is essential though, and Quest UAV believes that drones will continue to take an ever-increasing role in the monitoring and assessment of coastal erosion and assist in effective decision making for local planners and environmental bodies.
By Jake Frith