Satellite links have revolutionised communications at sea but they do require the installation of an antenna located within a dome to provide the link between vessel and satellite.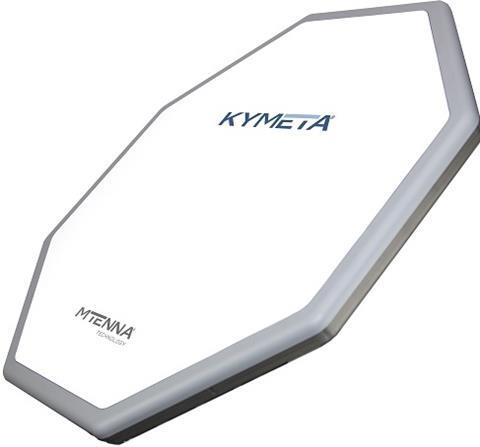 A steerable dish antenna within the dome maintains the direct link to the satellite and although these satellite domes have got smaller in recent years it can still be a challenge to find clear space for them on smaller craft. Now a solution has been found with the development of flat panel antenna that can do the same job as the satellite dish antenna.
The flat panel antenna has been developed by American company Kymeta using their mTenna technology which is claimed to replace traditional satellite dish technology. The mTenna uses light, thin, software-steered antennas that have been specifically designed for mobile communications. The company claims that the satellite industry has been waiting for an electronically steered antenna to bring the massive capacity available via satellite to the mobile communications market.
This innovative antenna system is currently being trialled in a variety of applications both on land and at sea. On land the flat panel antenna could make satellite communications available for cars whilst at sea it could open up the market for satellite communications to smaller vessels, where like cars on land, communications have tended to be limited to mobile phone links with limited ranges. Not only does the flat panel antenna open up satellite communications to a much wider audience but it can also handle much larger quantities of data which could be valuable for survey craft and similar operations in the workboat sector.
Kymeta mTenna technology allows a low profile, lightweight, small footprint, metamaterials based Ku-band antenna with several advanced features. These include electronic radio frequency beam-steering in either manual or automatic modes with polarisation selection and angle control. The operation is entirely software controlled with absolutely no moving parts that can cause wear and faults.
Satellite auto-acquisition and tracking with communication is through a standardised application programming interface. The weather-facing flat radome eliminates the bulky legacy radome, reducing weight, windage and complexity for easy maintenance and installation. The system supports transmit and receive operations on a single aperture with low power consumption.
VT iDirect is a leading company in the satellite communications sector. "iDirect has been a leader in the mobile satellite communications market for over two decades and we have been waiting for a technology like this to enable and expand satellite connectivity into new markets," said David Harrower, Vice President of Business Development. "We are proud to be the first modem partner, working with Kymeta to support their innovative KyWay Terminal with a trusted solution that also supports Kymeta connectivity services through the IntelsatOne Flex network.
By Dag Pike