SolarDuck, a Dutch renewable energy start-up, has launched its first floating solar energy project which has been installed at a site at Ijzendoorn on the River Rhine.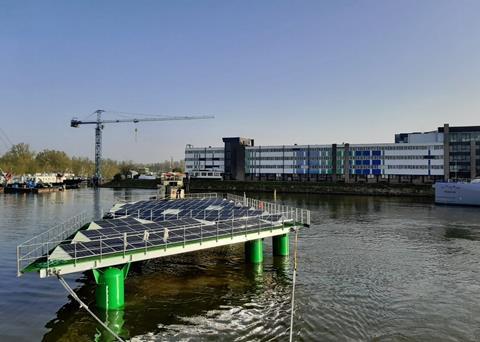 This pioneering project consists of four triangular platforms covered with solar panels that combine to form a larger triangle. This rests on floaters that are high enough to keep the panels clear of the water. The CEO of the company, Koen Burgers commented at the grid switch-on; "Today, we'll take pride in the project we built with our consortium of Engie Solutions, DSM Advanced Solar, Chint Solar, Damen Shipyards Group and Dekker Groep. Tomorrow, it's all hands on deck for our second project, which will float on the sea and is currently at the detail design stage.
"The market for offshore floating solar panels is still young, but is growing exponentially and will reach a size of 20000GW according to international research agency DNV-GL. This is due to the fact that within the sunbelt – that part of the planet which is sun rich, but wind scarce, solar is by far the cheapest method to produce renewable energy, but land is hard to come by."
Last week, the floating platforms were towed up-river from Gorinchem, where they were built at Damen Shipyards, to IJzendoorn. "I'm incredibly proud," says CTO Don Hoogendoorn. "For months, we perfected the technological design, after which we built the demonstrator within 7 months. From a technological point of view – our team has over 80 years of shared experience in maritime technology – we knew the platforms were built robustly, but a 50km towing route is the ultimate real-life test. During such a path, the forces are far beyond those you would experience at sea. And our platforms passed the test with flying colours."
Each triangular panel measures 17 metres along each side and there are four panels linked in this prototype. Construction is mainly in marine grade aluminium and the supporting float columns allow the panels to stand 2.5 metres above the water. The solar panels mounted on the structure are angled so that they are largely self-cleaning and the design has been planned to be as low maintenance as possible.
By Dag Pike