A recently launched innovation competition has highlighted a £32bn opportunity for the global floating offshore wind market.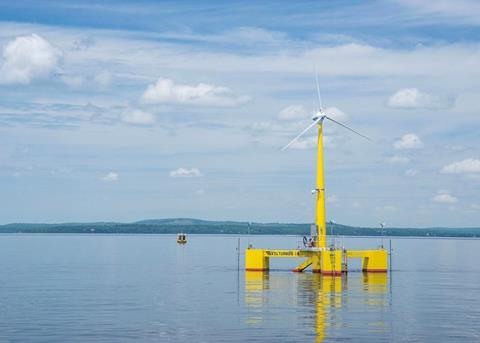 The Floating Wind Joint Industry Project (JIP), managed by the Carbon Trust, has launched the Floating Wind Technology Acceleration Competition to accelerate the development and commercialisation of floating wind. The Carbon Trust, together with 14 leading offshore wind developers represented by the Floating Wind JIP, will select the best ideas with a particular emphasis on mooring systems and operations and maintenance (O&M).
With a fund of £1 million from the Scottish Government, the competition will award innovations that will drive the floating wind market forward to help meet decarbonisation targets and open up a £32 billion market opportunity.
NASCENT SECTOR
Analysis by the Carbon Trust has shown that while floating offshore wind is a nascent sector, it is forecast to deliver up to 12GW of renewable energy capacity by 2030. Realising this scale of deployment cost effectively will require innovative solutions to de-risk the technology and reduce costs.
Joint industry partnerships have delivered targeted and effective research and development projects that have contributed to the rapid cost reductions seen across the offshore wind industry over the last decade. However, a number of challenges for the floating offshore wind sector need to be overcome to allow large scale deployment of this technology.
CHALLENGE AREAS
The objective of the Floating Wind Technology Acceleration Competition is to attract ideas both from within the offshore wind industry and across a wide variety of other sectors including: marine, automotive, oil and gas, aerospace, robotics and manufacturing. It is specifically seeking technologies to address four key challenge areas:
1. Technologies that will enable effective and safe major component exchange offshore, for example by compensating for the relative motion between the vessel and turbine during O&M.
2. Developing cost effective and safe disconnection and re-connection operations when turbine foundations are towed to port. This includes novel 'out of service' arrangements which ensure mooring lines and electrical array cables safely remain secured in-situ while the turbine is in port.
3. New methods for cost effective, safe and reliable monitoring and inspection of large numbers of mooring lines, power cables and foundation structures.
4. New methods, materials or technologies that reduce the cost of mooring systems through easier and safe installation and/or reduced maintenance requirements.
Miscellaneous category: The competition is also looking for other technologies that will reduce the cost of floating offshore wind, such as reducing installation times, allowing serial fabrication or reducing maintenance requirements. Entries submitted in this category should provide details of the challenge their technology is overcoming.
The challenge areas were identified through previous work undertaken by the Floating Wind JIP. The Summary Report from Phase 1 of the Floating Wind JIP summarises the technology challenges in the floating wind sector across electrical systems, mooring systems, infrastructure and logistics.
COST EFFECTIVE MAINTENANCE
This report highlighted the need for dedicated solutions for offshore wind mooring systems, in particular the use of synthetic mooring line materials compared to conventional steel chain or wire moorings, and efficient means of installation and maintenance. The report also identified the need to develop efficient manufacturing processes and develop cost effective means of maintaining floating offshore wind structures.
Scotland's Energy Minister Paul Wheelhouse said, "I am delighted to announce the £1 million Floating Wind Technology Acceleration Competition that Scottish Government are partnering with the Carbon Trust to deliver. Given that 80% of offshore resource across the world is in deeper water, floating offshore wind will undoubtedly play a key role in renewable generation in the future. Finding solutions to the key challenges identified as part of the competition will facilitate faster deployment of commercial level floating offshore wind farms, allowing this technology to reach its potential."
Jan Matthiesen, Director of Offshore Wind at the Carbon Trust commented, "Offshore wind in Europe has delivered cost reduction at a scale that no one anticipated, cementing its role as a truly competitive energy generation technology. It is now cheaper than building new conventional power plants. Floating wind is a proven technology and promises to be the next renewable power success story, but to meet the scale of ambition we need to accelerate cost reduction."
It should be noted that this competition will not fund projects to develop new floating wind platform or turbine designs. This competition will also not fund projects to improve the design of dynamic export cables, or projects primarily aimed at supporting fixed-bottom offshore wind turbines.
By Jake Frith