A medium scale prototype of a new floating wind concept is scheduled to start sea trials off the Spanish coast early in 2020 in order to validate the concept writes Dag Pike.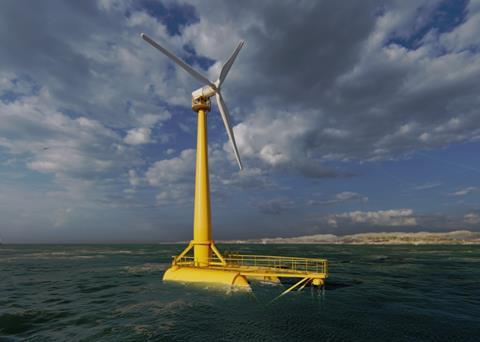 This new concept for floating wind, BlueSATH, has been developed by Spanish engineering company Saitec Engineering which is one of the leading engineering firms in Spain. Like other floating wind concepts, BlueSATH is designed to be fully constructed ashore and then floated out to its installation site fully erected which minimises the installation costs. BlueSATH's test turbine is scheduled to go online during the first quarter of 2020 in the open sea waters off Santander for a 12 months period of evaluation.
This real sea environment testing of BlueSATH will be with a 1:6 scaled prototype of a 10MW wind turbine using SATH floating technology. SATH is an acronym for Swinging Around Twin Hull, which uses a catamaran design with tubular side hulls connected by a steel lattice structure to support the turbine. It is claimed to be an innovative, competitive and cost-efficient solution for the floating offshore wind industry and the concept has been proved over several years of tank testing.
The tubular hulls of BlueSATH are constructed from reinforced concrete with the remaining structure using steel. For this prototype that is being tested the whole structure, in its ready to tow out state, weighs in at 50 tonnes and it supports a turbine mast with a hub height of 17.45 metres and a turbine rotor diameter of 15 metres supporting a 13kW generator. The results and findings from these trials will then be used for a full scale 2MW turbine that is scheduled to be installed on the Basque Marine Energy Platform in 2021.
The main objectives of this prototype testing will be the validation of its response and dynamic behaviour in waves. This will allow for both structural optimisation and cost reduction on the full scale unit as well as validating the structural turbine integrity. Additionally, a series of sensors will enable the structural life cycle to be forecast and the logistic and transport risks to be monitored during manufacture and assembly as well as transport to its installation location.