The first WindFloat Atlantic unit, complete with its turbine fully erected, has been installed at sea in a location 10 miles off the coast of Viana do Castelo in Portugal writes Dag Pike.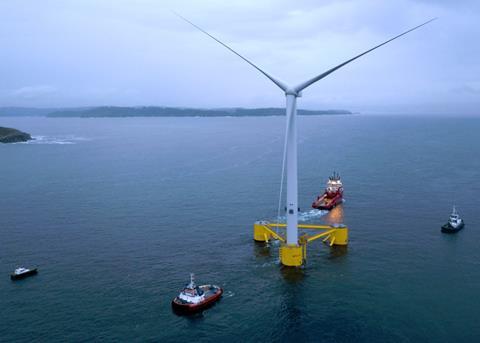 This first unit, rated at 8.4MW will soon be joined by two more similar units by the end of this year to create the first floating wind farm in Europe. In total this wind farm will produce 25MW, which is equivalent to the energy needs of about 60,000 people.
Principle Power has developed this WindFloat technology, and has also developed the detailed design for the platform and mooring system and certifying the design with the classification society ABS. The company also provided the project with platform fabrication, load-out, turbine installation and offshore towing and hook-up and will also continue operating and maintaining the WindFloat units once they are commissioned.
Once fully installed, the floating offshore wind farm will comprise three V164-8.4 MW turbines with a tip height of 190 metres atop Principle Power's triangular, semi-submersible WindFloat floating platform and will be located in a sea depth of 100 metres.
The development of this largest Windfloat follows six years of trials with smaller units that have experienced waves up to 17 metres high. The system allows the turbines to be coupled to the platforms in the harbour, and then the completed structure is transported to its destination using commonly available harbour tug boats or supply boats, a system that is claimed to significantly reduce costs and technical challenges. The WindFloat can also support the largest commercially available wind turbines in the world, which helps increase power generation and drive reductions in lifecycle costs. These Atlantic units were constructed in the harbour at Ferrol in Spain and undertook a 120 mile towage to their installation site.
"We're breaking new ground with this WindFloat Atlantic installation, so we're intent on gathering the necessary data and insights to carry forward into future floating offshore wind projects," said Flemming Ougaard, the Chief Operations Officer of MHI Vestas.
Over the coming decade, the offshore wind industry (both fixed and floating) is expected to invest over $30 billion a year. This could represent an additional $1 trillion for the ocean asset base over the next 25 years, which will lead to new jobs and investments in local ports, shipyards and other ocean infrastructure in coastal communities around the world.