The Propspeed Commercial Kit includes what is needed to coat two propellers 165-203cm in size, or a total surface coverage of 14.2 square metres – ideal for most vessels in this space.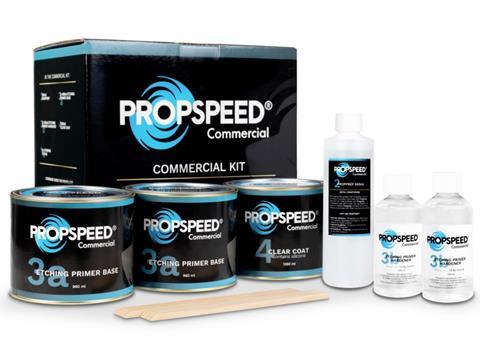 With over 21 years of experience protecting underwater assets globally, Propspeed has built a passionate team to offer superior in-field technical support. Propspeed's ultra-slick topcoat is specially formulated to prevent marine growth from bonding to metal surfaces below the waterline. Offering all-in-one protection, Propspeed is the ideal defence against marine growth and corrosion for all underwater metal assets including propellers, shafts and struts. It is proven to support vessel readiness, increase efficiency, prevent corrosion, save fuel and reduce maintenance costs.
The solution features an exceptionally strong chemical and mechanical bond between the metal substrate, the Etching Primer and the Clear Coat – ensuring the Propspeed coating actually sticks to running gear, and that the vessel can run at its peak. In addition, because growth releases when the vessel reaches cruising speeds, the product line prevents invasive species from being transferred to other regions.
"We've seen tremendous interest in our product line in the commercial space," said Chris Baird, CEO, Propspeed. "Whether a fishing boat, ferry, tug or luxury yacht, owners, operators and shipyards around the world are applying Propspeed for the protection from growth and corrosion it provides. We decided to offer our established product in a more convenient package for these vessels and look forward to making it just a little easier for marine industry professionals to purchase and apply the best foul-release coating."
Connect with Propspeed at Seawork Connect from 5th – 7th October