Norway-based shipowner OHT recently celebrated the keel laying of its 'Alfa Lift' heavy installation vessel.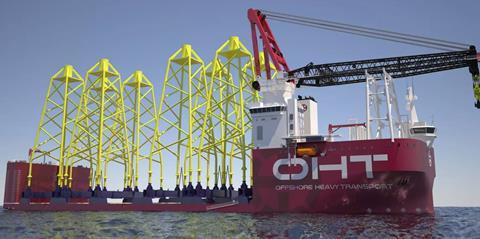 Custom-designed by Ulstein, the foundation installation vessel will serve the early development stage of new offshore wind farms.
The current development in offshore wind industry towards larger turbines and deeper waters is stressing the capacities and capabilities of the existing fleet. From vessels used in survey and seabed preparations, to vessels dedicated to installation, service and operation and cable laying, we see a general trend towards larger and therefore often more expensive vessels. Ulstein's customised Alfa Lift design for Offshore Heavy Transport (OHT) is a break-through of this trend, by applying smarter design principles. Relying on the Archimedes' principle, the Alfa Lift design can achieve a higher operational performance compared to existing vessels without compromising the economic performance of the operations.
Alfa Lift will provide transportation and installation of foundations for offshore wind farms. The flexibility inherent in its design opens up the possibility to also carry out heavy transportation, installation and decommissioning activities in other markets. What makes this dynamically-positioned, 48,000DWT vessel truly exceptional is the ability to perform heavy lift crane operations with the main deck submerged. Targeting the offshore renewables market, the vessel naturally has been developed to reduce environmental emissions as much as practicably possible. In addition to the installation of exhaust gas scrubbers, the engines are Tier III compliant, and a battery package will contribute to the reduction of the overall fuel consumption and resulting emissions.
The vessel's capabilities match the future requirements of the offshore wind industry, allowing her to transport and install up to 10 x 1,500t ultra-large jacket foundations or 11 x 2,000t XXL monopiles plus transition pieces for the largest anticipated Wind Turbine Generators. The vessel is currently under construction at the CMHI yard, China, and is planned for delivery in 2021. OHT has options for up to three additional units of the same design at the yard.
Other vessels that Ulstein has recently developed for the offshore renewable or walk-to-work markets, include the heavy lift vessel Stella Synergy for Jumbo, Kasteelborg for Wagenborg, and the Van Oord subsea rock installation vessel Bravenes. In addition comes several SOVs contracted by, or currently operating for, Bernhard Schulte Offshore, Acta Marine and Seaway 7. Ulstein is also currently building the cable laying vessel Nexans Aurora.
By Jake Frith