The UK-based High Speed Transfers (HST) Ltd has taken delivery of its fourth Damen Fast Crew Supplier (FCS) 2710.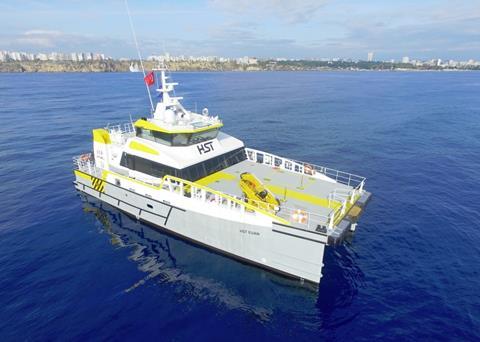 This has occurred just over 18 months since it received its first, the HST Hudson, in June 2018, which was followed by HST Sofia in March 2019 and HST Harri in October of the same year. The latest addition is named HST Euan and in mid-January 2020 she was loaded onto a heavy lift vessel at Damen Shipyards Antalya in Turkey bound for Rotterdam.
The HST Euan replicates the features and layout of her sister ships. These include capacity for 26 passengers in safety and comfort and the ability to operate in wave heights of more than two metres. Other advances on the predecessor to the FCS 2710, the FCS 2610, include more flexibility, more tank capacity and greater deck space.
The new addition to the HST fleet has already been signed up for a five-year contract with leading wind farm operator MHI Vestas. Early next month she will join HST Harri in transporting personnel and equipment between Ostend and the company's various sites in the North Sea.
Visit Damen Shipyards at Seawork 2020 on stand Q12 and HST on PB101
By Jake Frith