A contract for the expansion at Port-La-Nouvelle in south-western France has been awarded to the consortium of Bouygues Travaux Publics and Boskalis Nederland BV writes Dag Pike.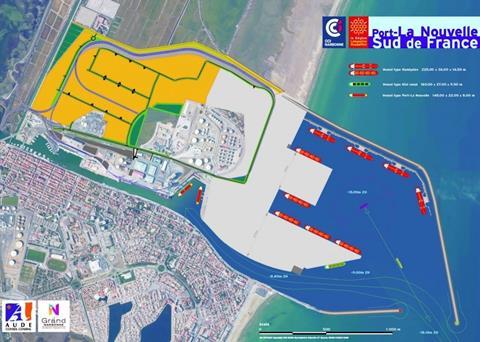 The planned expansion that will entail the construction of a new port outside the current river based harbour will enable the port to accommodate the construction and assembly of floating wind farms as well as handle larger ships. The value of the contract is €199 million, with the overall project costing €237 million.
When completed, the new port area will have a depth 14.5 metres, compared to the current 8-metres. Completion of the project is scheduled for 2023. The new port will be enclosed by a long, curved breakwater on its northern side with the main berths for ships alongside this breakwater and on newly constructed berths inside. In total there will be berths for up to 10 ships with a maximum length of 235 metres.
France has so far approved four floating wind pilot projects with a combined capacity of just below 100MW. Three are located in the Mediterranean and one in the Ille de Groix area in Brittany. Space in the expanded port at Port la Nouvelle has been allocated for the floating wind farm construction work allowing the units to be towed out in their completed state.