A third crew transfer and supply catamaran has joined the fleet of wind farm service company Frisia Offshore, expanding the north German firm's fleet capability and engagement in the North Sea wind energy sector.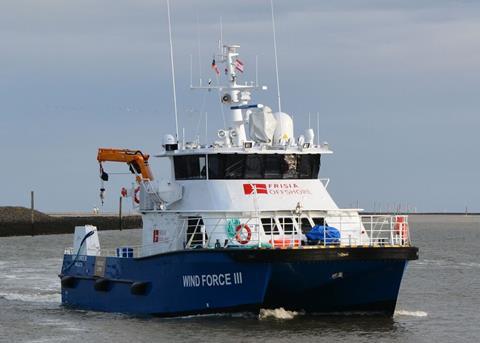 The 22m long and ca. 8.6m wide Wind Force III was built at the Estonian shipyard Baltic Workboats. It has joined sister Wind Force II, introduced last year and built by the same yard, and Wind Force I, which was designed and built in 2009 at Germany's Schiffswerft Diedrich. It will transfer offshore technicians to and from the German mainland or the East Frisian Islands and offshore wind farms in the North Sea and the Baltic Sea.
On completion Wind Force III sailed the 1,200 kms from Baltic Workboats to Frisia headquarters in Norddeich under its own steam after a construction time of 10 months and went straight into service.
It is powered by twin CAT C32 main engines each of 895kW, operating over ZF 3050 gearboxes and has a maximum speed of 25 knots, according to Frisia Offshore. No complete data sheet was supplied but her predecessors, which also have CAT C32 engines of 895kW, drive fixed pitch propellers. An earlier report said the newbuild had C4.4 marine gensets, also from Caterpillar.
Frisia Offshore said because of the "consistently positive feedback" from service so far with its two earlier CTVs, it had decided last year to order the same boat design Diedrich had created for Frisia especially for its operational demands.
It said that generally all the ships in the Frisia fleet were of "very high technical standard" and that this also applied to Wind Force III . Technical reliability and high availability compared to similar vessels was an "important factor in their success" and the earlier boats had carried out more than 50,000 landings at offshore wind turbines without accident since they entered service, the company declared.
A further success point had been their ability to carry up to 24 technical personnel – twice the number which many other ships in the sector were allowed to transport, Frisia said.
Like its predecessors Wind Force III can also transport two 10-foot containers and smaller cargo consignments up to ten tons on the aft deck . A special fender in the centre of the bow enables the safe transfer of offshore personnel safely at sea and the bow is built to dock exactly with the wind turbines it serves.
The latest ship also carries an aft crane. Capacity was not immediately reported but the earlier boats have cranes capable of lifting 1.5 t at maximum outreach, making them independent of harbour facilities.
"Once again the yard has delivered a very good ship", Frisia Offshore officials commented.
By Tom Todd