Seawork exhibitor Reygar has a new fleet monitoring system called BareFLEET, which has been designed using years of experience, hard won through robust monitoring systems in the marine renewables sector.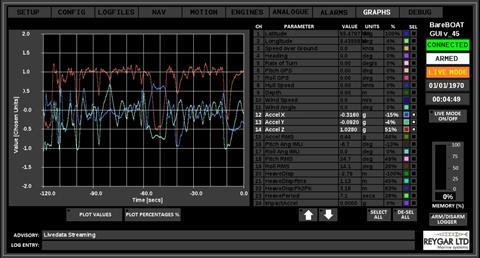 Back in 2001 Reygar director Chris Huxley-Reynard remembers standing at the foot of the ladder of the UK's first commercial scale tidal turbine generator, a mile offshore, with 6kts of tide rushing past his feet and huge vortices being shed off its monopile structure. "It was an exciting and sobering experience getting on and off the turbine, you had the feeling Mother Nature didn't want you there" says Chris. For 15 years he and his Reygar colleague Felix Francis, worked in the nascent tidal turbine industry, designing, building and operating free stream tidal generators first for Marine Current Turbines and Tidal Generation, and then later for Rolls-Royce and Siemens.
During this period they experienced the challenges of deploying highly innovative technology in a punishing marine environment. "Equipment that was not robust got destroyed by the tidal current" remembers Felix, responsible for the entire control, monitoring and power electrical system on Marine Current Turbines' 'Seagen' turbine. "Access for maintenance was significantly restricted by the tide and sea state, we therefore placed huge emphasis on system ruggedness, reliability and design simplicity. Systems needed to work the first time they were deployed; you didn't always get a second chance" he recalls.
Chris and Felix developed a broad range of integrated systems for these turbines including subsea electro/hydro/mechanical, power and control systems, some of which was quite disruptive technology. "For maintenance access we had to figure out a way to recover a 150te turbine from the seabed in 40m water depth, in a slack water period of 20 minutes" Chris explained, "…and we had to do it without the use of any heavy lift vessels, using just a single multi cat or workboat". Sometimes necessity is the mother of invention – Chris's team developed and patented a highly innovative system using a subsea winch, buoyant turbine and robust control system to successfully achieve this. The system worked faultlessly for the life of the turbine, saving the company £millions in heavy lift vessel hire costs. "You have to think outside the box, but you also have to keep it simple", says Chris.
Combining their experience and passion for ingenuity, Chris and Felix now run Reygar, a marine engineering innovation company. Established in 2012, Reygar provides fully integrated control and monitoring systems to the marine industry. These include remote monitoring and fleet reporting systems, all based on the central tenets of simplicity and ruggedness. All Reygar systems provide highly detailed diagnostic and performance data for engineers, and also simple, easy to understand KPI information across a fleet for senior management.
BareFLEET helps operators maximise the operational effectiveness of their fleets and demonstrate that they are meeting contractual obligations as well as taking care of personnel. It is adaptable for use at all levels within an organisation, from boat to boardroom.
BareFLEET processes a comprehensive set of engine, navigational, motion and health monitoring data, including heave motion, pile push-on force, and component vibration to provide insight into fleet and vessel operations. It can generate simple reports for the boardroom presenting trends in overall fleet utility, performance and health, aggregated over weeks or months. It can issue weekly or daily vessel reports for use by fleet maintenance and operational managers. It also allows ship engineers, boat builders and even OEM suppliers to drill down into high frequency performance and alarm data for diagnostic, verification or warranty claim purposes. Whatever the level of detail required or the audience, at the core of BareFLEET is the presentation of information in a clear and simple way.
Visit Reygar at Seawork International 2017 on stand PB7.
By Jake Frith