A new generation fast ferry has left Incat Tasmania's yard in Tasmania on her delivery voyage to Denmark via the Panama Canal.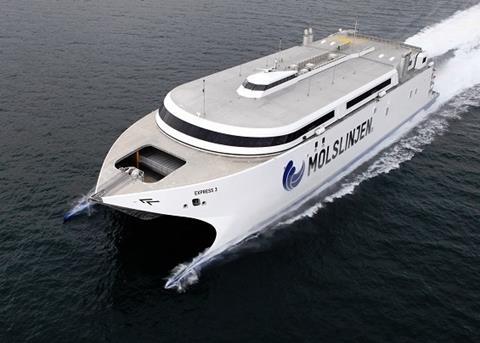 The Express 3 is a 109 metre high speed vehicle-passenger ferry for Danish operator Molslinjen, becoming the fourth Hobart-built catamaran in the company's current fleet.
An entirely new generation fast ferry, the 109 metre wave piercing catamaran Express 3 has evolved from Incat's well proven 112 metre catamaran range which first entered commercial service in mid-2007.
Incat's Tim Burnell comments, "The design brief was simple. Ensure a consistent passenger experience and fleet commonality for Molslinjen, who already successfully operate two Incat 112 metre catamarans, whilst delivering a minimum 10 per cent fuel and emissions saving plus faster vehicle deck turnaround times."
Building on the extensive in-service experience of the Incat 112 metre, the concept was redesigned from the keel up by Incat's in-house naval architects, Revolution Design. The result is the 109 metre catamaran with a lightship weight saving of just over 100 tonnes.
The design refinement has also produced a marked improvement to vessel trim. Fuel, domestic fresh water and sullage tanks have all been moved forward but significantly, by repositioning the engine rooms six frames further forward, the vessel benefits from vastly improved speed and fuel consumption performance. Adding a skeg to the keel has enhanced directional stability.
On sea trials, Express 3 achieved a speed of 43 knots with 600 tonnes deadweight on board, easily exceeding contractual speed and fuel consumption expectations.
"Additionally, the vehicle deck layout has been enhanced with a new two pillar line arrangement, offering an overall gain of 600mm width in workable vehicle deck space, greatly assisting loading and discharge which in turn has a positive effect on turnaround times in port," Burnell added.
Tim Burnell said, "The 109 metre catamaran is Incat's response to increasing demand for quality newbuild high speed craft that will provide reliable year round service. We pioneered this mode of high speed transport in 1990 and our ferries have since operated over 2.5 million hours in intensive commercial service. By deconstructing already successful designs and operator experience Incat has produced a fast ferry that truly is of a new generation."
Tim Burnell points out that in 2017 Molslinjen is a dramatically transformed business. "Molslinjen is now making its largest profits in its 54-year corporate history, representing a significant turnaround from the recent past. Credit must go to the vision and hard work of Molslinjen's Board, Management and Employees, who have grown traffic on their routes between Sjealand and Jutland by 48 per cent in the past three years such that they now annually carry over 2.5 million passengers, one million cars and 350,000 freight vehicles per year," he says.
The new ferry will enter commercial service on 1st June, 2017.
By Jake Frith