A far cry from the usual nightmarish results of water contaminating a vessel's diesel tank, a new pollution cutting Water-in-Diesel (WiDE) fuel emulsion has been selected to power Team Britannia's multi-million powerboat on its 24,000 mile world record attempt later this year.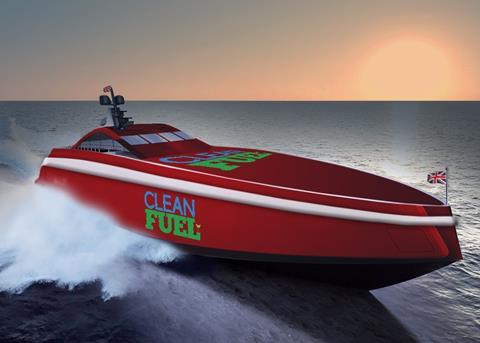 The company behind the fuel, Clean Fuel Ltd, produces a range of emulsions, (water, diesel and an emulsifier) which when burnt, the company claims, reduce emissions of harmful pollutants such as particulate matter (PM) and nitrogen oxides (NOx) when compared to traditional fuels.
The record attempt, headed by international sailing legend Alan Priddy, hopes to cut up to seven days off the current round the world powerboat record of 60 days 23 hours 49 minutes, held by New Zealander Pete Bethune.
Team Britannia will be using a specially designed boat that utilises a new design that will improve fuel consumption and stability.
The emulsified fuel will power the two race-tuned Fiat Power Train C13 500, 6 cylinder engines, which are each capable of generating 500HP at 2,000 RPM. Completing the engine system are two water jets built by top marine company Castoldi.
Clean Fuel's Technical Director, Steve Mason, will also join the boat's crew as its Chief Engineer.
Mr Mason commented: "I have known Alan for many years and he always hoped to revisit the one power boating record that alluded him throughout his illustrious career, but he also wanted to do it in an environmentally friendly way. That is why the boat is being constructed out of recycled marine grade aluminium, has been designed to cut fuel consumption and will use emulsified fuel.
"Clean Fuel is proud to be powering Team Britannia's world record bid with Alan joining our team in developing the perfect mix for the record attempt. Simply put, by using our fuel emulsion the boat will increase its range, reduce pollution and maintain performance."
The Company says they have cracked the problem of stratification, where the emulsion separates and by completely wrapping the water with fuel can control the micro explosion, creating a more efficient burn.
Early testing indicates that this process slashes PM and NOx without any reduction in engine power.
Mr Priddy commented: "We are pushing current technologies hard to ensure that we have fastest and most fuel efficient boat possible, but I wanted more. The marine industry is a major contributor to pollution even with the massive strides made over recent years such as the reduction in sulphur levels – so more needs to be done.
"The International Maritime Organisation announced last year further restrictions, which came into effect at the beginning of this year. The lack of lead-time has caused problems, but one which is challenging the industry and driving innovation. What Clean Fuel has done is to perfect a solution. It does not require expensive changes to existing engines and has the potential to actually deliver a net saving to the user."
By Jake Frith