Japanese salvor Fukada Salvage & Marine Works has assisted a disabled container ship and delivered a patrol vessel to a shipyard for large-scale repairs.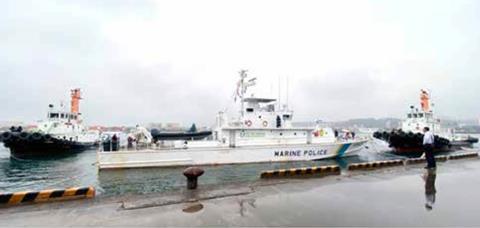 Both items of news highlight the importance for salvors in maintaining good relationships with shoreside authorities where states will often be involved authorising actions including port entries and environmental protection measures. The first incident unfolded when Fukada received notification from its European partner that the 13,000teu, 2012-built container vessel MSC Ariane (365m LOA, 143,521dwt) had experienced main engine failure while 190 miles south of the main island of Japan.
Bad weather was forecast and Fukada's Japanese-built AHTS Shin Chou Maru (110tbp) was tasked to assist from Yokosuka some 311 miles away where it was on standby. MSC Ariane's master requested the tug collect spare parts from a nearby escort vessel and after delivering them to the vessel a towing connection was established and passage to the nearest place of refuge got underway.
It was determined that the original destination was unsuitable for temporary repairs to the vessel's main engine so course was changed to Seto Inland Sea between Shikoku and Honshu Island. Three harbour tugs subsequently towed the vessel for the final leg to Wakayama Port at the entrance to the inland sea. The International Salvage Union reports that compliance with strict Japan Coast Guard safety regulations covering entrance of such a huge ship in the Sea was completed by Fukada who stated: '… because the Japan Coast Guard recognised its past achievements and contributions to maritime safety.'
Separately, when a Japanese foundation donated the 40m patrol vessel PSS Kedam to the republic of Palau following a career policing illegal fishing it was determined that large scale repairs including to the vessel's main engines were required, to be carried out at a Japanese shipyard. Steaming the patrol vessel directly was an option but Covid-19 restrictions meant that finding a port to refuel would be difficult so it was decided to undertake the passage under tow. Fukada's 2000-built AHTS Shinryu Maru (50tbp) was dispatched from Okinawa to meet PSS Kedam in the North Pacific Ocean and tow it to Kagoshima, Japan. Fukada once again emphasised the importance of good relationships stating: "This is proof that we are maintaining good relations with the Japanese Government through our regular activities."
By Peter Barker