Construction of Finland's LNG car-passenger newbuild ''Aurora Botnia'' is on track again after concerns about coronavirus were eased, reports Tom Todd.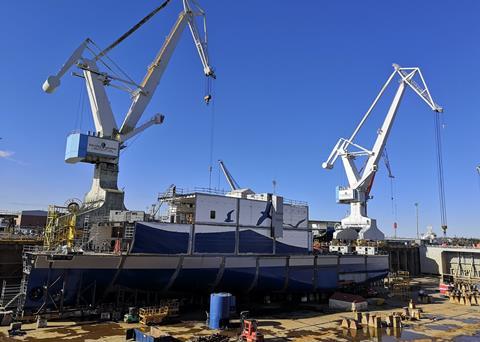 Billed as "the most environmentally friendly passenger vessel under construction", the 150m x 26m ferry is under build at Rauma Marine Constructions (RMC) for delivery next spring to Finnish shipping company Wasaline. Construction was going "according to schedule" said RMC CEO Jyrki Heinimaa in early May after concerns were expressed over employment and coronavirus.
About 400 people from some ten countries are working on the €120 million Wasaline project and Heinimaa said it was hoped that just-announced government steps to ease labour movement would now help the situation.
The assembly of the last of seven Polish-built hull sections from Gdansk was being completed and the fitting of machine rooms and car decks was "proceeding at a rapid pace" with vessel launch planned for August, the yard reported.
The new ship will have a hybrid LNG/BLG power generation system with LNG as the prime energy source. Also installed will be an electric propulsion system with ABB azimuth thrusters, Danfoss (Vacon) AC drives and WE system integration. Officials said "the ferry can be considered the most environmentally friendly large RoPax ferry under construction at the moment".
Catarina Fant, Head of Marketing at Wasaline owner Kvarken Link told Maritime Journal the ship would be driven by four Wärtsilä 8V31DF main engines - the first of their type from the Finnish engine builder to be installed. "The Wärtsilä 31 engine is the latest in Wärtsilä's portfolio and launched at Norshipping four years ago. It can run on both LNG and LBG", Fant said.
She noted that although the ferry is already unique and the engines are environmentally friendly "we use batteries as well. Close to ports we will use only batteries. In ports we will use power from shore".
Aurora Botnia will be of about 24,399gt, accomodate 800 passengers and have a freight capacity of 1,500 lane metres for cargo. It will replace the company's Wasa Express, which currently operates between Vaasa and Umeå.
Fant was asked if further newbuilds were planned at RMC and if so would they be technically similar to Aurora Botnia. "There are no plans to build more vessels for Wasaline", she told this correspondent.