The 68.57m long Heligoland passenger ferry Funny Girl is back in service on the north German coast after extensive modernisation – its second major revamp since entering service 44 years ago.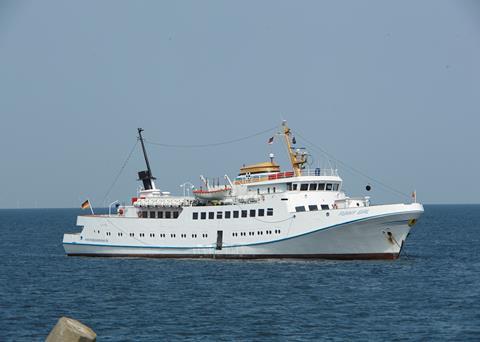 Owners Reederei Cassen Eils used the ship's scheduled yard visit at the Mützelfeldtwerft in Cuxhaven to undertake not only regular repair and maintenance but also renovation which turned into a comprehensive modernisation.
Managing Director Peter Eesmann explained that replacing upholstery had led to a complete renovation on the veteran passenger ship - which the owners say is the biggest and fastest Heligoland ship operating out of Büsum.
The work was centred on Funny Girl's main passenger salon which was completely gutted and re-designed. In addition, the ship's two lifeboats were replaced with a modern sea rescue system. "It all started with replacing the seating upholstery", he said, "and ended with us dismantling everything".
A spokeswoman for Cuxhaven based Cassen Eils, a subsidiary of AG Ems, added that the modernisation work was aimed at improving the ship's safety and quality standards .
Safety was also at the core of a previous conversion in 2008, also at Muetzelfeldtwerft because Funny Girl did not comply with EU regulation 98/18 EG. During the conversion, the ship's main deck windows were changed to portholes. The ship is now able to operate officially on the Heligoland route in bad weather and in Force 10 winds and 5m high waves.
Funny Girl was built at the Mützelfeldtwerft in 1973. Carrying 799 passengers and of 1017gt it is10m wide, draws 2.4m and has a propulsion system comprising two 16-cylinder MWM Diesels of combined 2206 kW operating over two fixed propellers developing 19 knots.
While the ship was being modernised at Mützelfeldtwerft this time, reports said sister ship Fair Lady carried out the regular service between Büsum on the German mainland and the island of Heligoland, some 60 kms offshore in the German Bight. Fair Lady, even older than Funny Girl and built in 1970, has in the meantime gone back onto its own regular route between Bremerhaven and Heligoland.
Also now serving all year round between Cuxhaven and the island of Heligoland is Cassen Eills' aptly-named 83m newbuilding Helgoland – a pioneer in its own right.
That ship – which went into service late 2015 - is Europe's first passenger ferry newbuilding to be fitted with LNG dual fuel propulsion capability. It cost €31.5 million to build with the EU promoting the project and the new technology to the tune of €4.2 million.
Helgoland, which is of 2256gt, was built by Fassmer Werft and has two nine-cylinder 20DF medium-speed engines with a combined output of 5000 kw providing 21 knots. It is 12.6m wide, draws 3.6m and carries 1040 passengers.
By Tom Todd