MAN Energy is at the forefront of new technologies in the race to find alternatives to diesel.
A dual-fuel engine capable of running on LNG, diesel and HFO was launched by MAN Energy Solutions, which has added it to its four-stroke engine portfolio, 'clearing pathways to emissions compliance', the company says.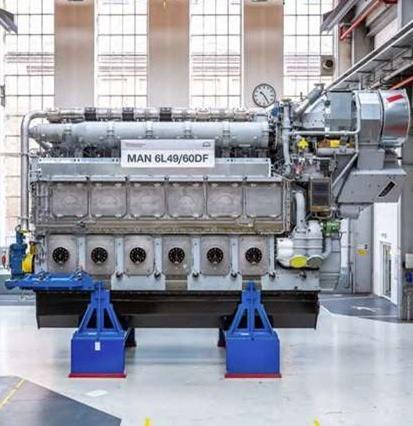 The MAN 49/60DF can also run on biofuel blends or synthetic natural gas, the company says, adding that it 'sets a benchmark in terms of fuel efficiency within four-stroke engines – both in gas and diesel modes – and therefore minimises fuel costs'.
"Dual-fuel engines are the ticket to the maritime energy transition," said Wayne Jones, Member of the Executive Board – Global Sales & After Sales. "As we enter a new era of decarbonisation, the 49/60DF is a great, new choice for vessel owners that have ambitious, emission-reduction targets on their agenda. In essence, it offers full fuel flexibility to operators who can then choose from the various decarbonisation paths that open up as new fuels make their way into the marine industry."
MAN has developed its engine for the cruise, RoPax, RoRo, dredger and LNG carrier segments, it says.